My One and Only: A Boy on the Road with His Mother
Kevin Bacon

Logan Lerman

...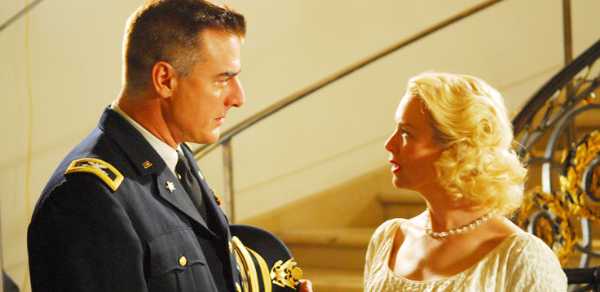 My One and Only is a light-hearted coming-of-age tale set in
the 50s told through the eyes of George Devereaux (Logan Lerman).
Loosely based on the fascinating real-life childhood of Hollywood actor George
Hamilton, it's a wayward, on-the-road film that might catch your attention during
a lazy afternoon in front of the TV; that is to say, it's forgettable.
Anne
(Renée Zellweger) is George's mom, who returns home one day
to find her husband Dan (Kevin Bacon) bedding another woman.
Anne calmly decides to take her two sons and leave Dan. She stops by the bank
on her way out of the city, takes most of the money from the safety deposit and
leaves her wedding ring behind. Next, she and her two teenage boys embark on a
cross-country road trip where Anne looks for a new suitor to provide for her
and the kids.
At
first Anne seems to be in denial about the reality of her situation; as
graceful and beautiful as she is, the fact remains that she's past her prime
and has never had a job or gained any valuable skills. So Anne frolics from state
to state, reconnecting with old lovers and hoping that one of them might marry
her; a plan that fails considerably. The episodes of groom-hunting are
comically disjointed, always ending abruptly just before Anne walks down the
aisle.
While
watching My One and Only, it's hard
to connect emotionally with its main character. The film has a scrambled core
that doesn't quite settle on a singular tone; is this a slapstick comedy? A drama about redemption and coming-of-age?
Is it even a love story? Characters range from gritty and realistic to flat in
a way that distances you and makes you question how this mixed bag of cinematic
creations co-exist in one world.
Zellweger is impressive as
the aging gold digger and her performance is the only nail grounding the film
amidst the different impersonal anecdotes along the road. The rest of the cast
seem to be singing to different tunes.
My One and Only has a dull and rather slow start, and it continues
to wobble at that pace until the end. It's pleasant enough not to offend the
viewer, but just like the enigmatic title; it will fail to attract any
interest.