Nanny McPhee and the Big Bang: English Charm with a Dash of Magic
Emma Thompson

Maggie Gyllenhaal

...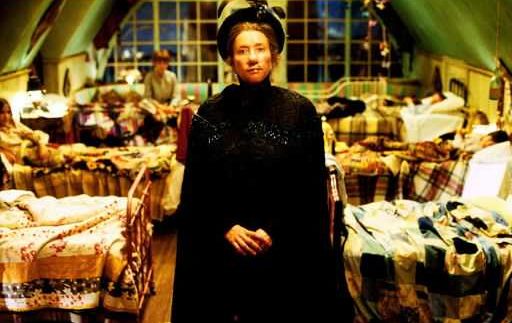 Nanny McPhee (Thompson) has five lessons to help naughty children become
well-behaved darlings. She's ugly, but with every lessoned learned, a bit of
her witch-like looks goes away to uncover the beauty beneath. Her promise is to
be there whenever you need her but not want her. When you want her, but no
longer need her, then she has to go.

The sequel to 2005's Nanny McPhee, the film isn't a chronological continuation of the
story, but rather a new adventure for the Nanny; that is to say, you don't need
to have seen the first film to enjoy this one.
Set against the backdrop of WWII, Nanny McPhee comes to help Mrs Green
(Gyllenhaal) in handling her three impetuous children and their two spoiled
cousins. Mrs Green has enough on her plate already, what with her husband away
at war, and trying to keep the family farm up. The children are resistant to
McPhee at first, but through her magic, and with help from the cute barn
animals, she wins them over little by little and succeeds in bringing them closer
to each other.
Fine family films are all-inclusive, and McPhee sure belongs to that lot. There is a sense of magical awe
about the film that will cast a spell on all viewers. Thompson not only acts
the part of the Poppinsian nanny, but she made the magical potion herself.
Credited as writer and producer, Thompson brings genuine warmth to the entire
production. Gyllenhaal nails the English accent and along with the child
actors, she gives a classic performance that brings a sense of realism amidst
all the flying pigs and kid shenanigans.
Much like the Victorian country house that it takes place in, Nanny McPhee is a colourful delight of a
film. It will entertain children and their parents alike with the laughs, magic
and charm of a kids' classic. It's all that you could want from a family film,
and it doesn't play it dumb.