Need For Speed: Dull Videogame Adaptation
Aaron Paul

Dominic Cooper

...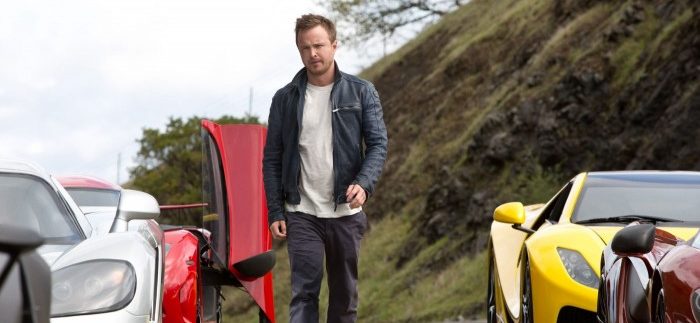 Proving just how difficult it is to draw a storyline from the virtual world of video-gaming, Scott Waugh's Need for Speed marks the very first big-screen adaptation of one of the most cherished car-racing games
Set in the small town of Mount Kisco, New York, Need for Speed follows Tobey Marshall (Paul); a skilled mechanic and famed street racer who's been struggling to keep his late father's auto shop open for business. When he's not elbow-deep in grease alongside his friends and fellow mechanics, Tobey likes to keep his adrenaline pumping by participating in illegal car racing.
Soon, Tobey's financial problems are seemingly solved after receiving a visit from long-time opponent and professional racer, Dino Brewster (Cooper), who offers him a chance of a lifetime through rebuilding a modified Ford GT500, from which he will receive a percentage of the lofty sale price.
However, after finishing the task at hand, Dino challenges Tobey to an off-the-cuff race, landing Tobey with an unjustified two year prison sentence. When he's finally released, he sets out a plan of revenge on Dino, by entering himself into one of the deadliest street races known around.
Over the years, videogame adaptations have bred mixed results; from Nintendo's disastrous 1993 film, Super Mario Bros, to the slightly more interesting Mortal Kombat film series.
Unfortunately, Need for Speed is all just too bland; slightly too long, the thinly-drawn storyline is both stiff and dour, serving to take away from the impressive stunts – all of which are live-action, with no CGI used.
Fresh off the set of super-popular TV series, Breaking Bad, Paul proves to be a strong lead, but unable to rise above the poorly material. The same goes for Cooper, who valiantly embodies the word villain while Keaton, who makes a brief appearance as Monarch – the main race organiser – is a little to melodramatic for the film's tone.
Need for Speed takes itself a little too seriously and ultimately overstays its welcome. Unlike the popular Fast & Furious franchise, this is a film that does little to help you suspend your disbelief, because quite frankly, it's quite dull. The only potential saviour for audiences looking for an adrenaline-amped ride is the sexy range of supercars.