Non-Stop: Predictable but Passable Neeson Thriller
Julianne Moore

Liam Neeson

...

Action & Adventure

Mystery & Suspense

...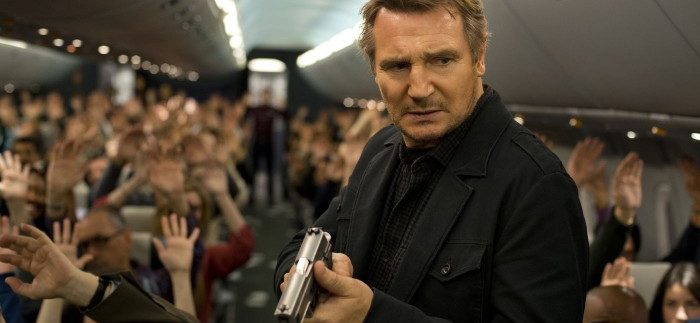 With now bona fide action superstar, Liam Neeson, on board, Non-Stop, offers a surprising amount of tension and excitement, turning it's otherwise cheesy and predictable premise into a genuinely gripping ride.
Before boarding a flight from New York to London, weary-looking federal Air Marshall, Bill Marks (Neeson), can be seen drowning pre-flight anxieties and his troubled past with a generous pour of whiskey into his steaming cup of coffee. After scrutinising the crowd of happy travellers, Marks boards the plane and finds himself seated next to chatty, window-seat-seeking, Jen Summers (Moore); the pairing adds an odd-couple dynamic that you'll either find utterly delightful, or gratingly superfluous, depending on your disposition.
Soon after take-off, Marks receives an anonymous text message informing him that, unless $150 million are directly deposited into a specific account, one of the flight's passengers will dies every twenty minutes.
As Marks' mind scrambles to put together some semblance of a plan, things become worse before they get better – in true Hollywood thriller style.
Jaume Collet-Serra – a director who previously worked with Neeson in the tame 2011 film, Unknown – does a good job of threading in peripheral characters for the whodunit elements, while maintaining a steady sense of doom. The restricted setting of a plane is a both a gift and a curse; the claustrophobia of it all will get you, but it stifles the pacing at times.
Despite Non-Stop's uncouthly conventional plot, Neeson, continues to convince in his latest in a string of roles as a haggard tough-guy; his innate smouldering charm and commanding on-screen presence carry much of the film. The strong-supporting cast – which includes the always fantastic Moore, Downton Abbey's Dockery, House of Cards' Stoll, Argo's McNairy and recent Oscar-winning actress, Nyongo – all deliver solid performances and can rightly claim to have contributed positively to the film.
And so despite its flaws, Non-Stop is engaging in a quite mindless way; you'll gain nothing by watching it, but you'll enjoy the cheap ride – it's a little bit like fast-food.