Oculus: Scary but Forgettable Horror Flick
Brenton Thwaites

Karren Gillan

...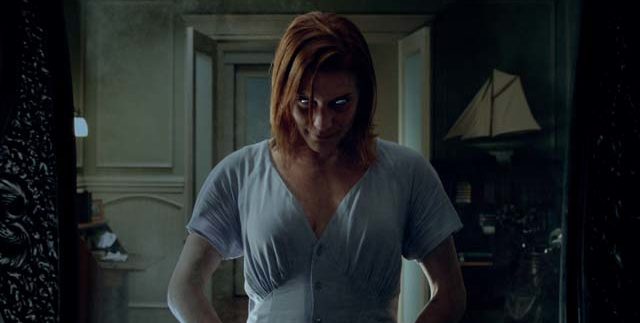 Expanding from his 2006 short film, Oculus: Chapter 3- The Man with a Plan, director Mike Flanagan – along with help from writer Jeff Howard – approaches the subject of the supernatural with a considerable amount of imagination and manages to deliver some scares in the relatively unnerving ghostly thriller, Oculus.
The story follows the troubled lives of Tim (Thwaites) and Kaylie Russell (Gillan); a pair of siblings who witnessed the brutal death of their parents over a decade ago. Tim is convicted of the murders and is sent into protective custody and a psychiatric hospital, while Kaylie remains in a pit of despair without her family.
Years later, Tim is released on his twenty-first birthday and is now looking to rebuild his life and move away from his turbulent past. However, Kaylie has become convinced her brother was innocent and that something unnatural is at play.
Kaylie, who works at an auction house, has recently come across the very same oversized, 400 year-old mirror that she believes is responsible for their parents' deaths. Moving back to their old house and installing surveillance equipment, Kaylie and Tim hope to record evidence of the supernatural being.
A Blumhouse Productions creation – the same people who brought you Paranormal Activity – Oculus, as luck would have it, steers clear of the increasingly overdone found-footage approach, despite what its trailer might suggest. Instead, director Mike Flanagan seems inspired by the horror films of the 70's and 80's, like recent flicks, The Conjuring and Sinister, and paints the mood of the film with a slow-burning tone of dread and an ominous fear of the unknown. The film transitions between the past and present wonderfully, all while keeping you on the edge of your seat.
Gillan, the Scottish-born actress known for her role in TV's Doctor Who, proves to be a relatively solid lead and manages to paint Kaylie with an equal blend of self-determination and fear, while Thwaites' doe-eyed qualities comes across as a little too sappy.
Sadly, Oculus is not without faults. The film is never fully realised as a story and although it provides its share of scare, it's all really rather forgettable.