Omar & Salma 3: Silly but Funny Egyptian Romantic Comedy
Ezzat Abou Auf

May Ezz Eldin

...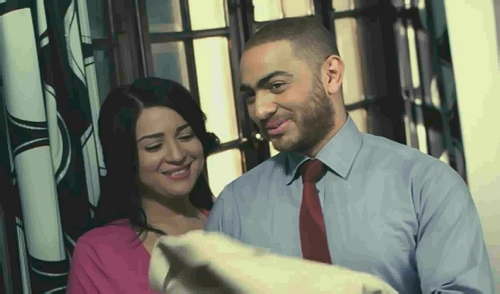 In this latest instalment, Omar (Hosny) and Salma's (Ezz El Din)
marriage has stagnated. Omar sleeps all day, hangs out with his friends all
night and lives off of his dad's money. He also happens to be obsessed with the
idea of pursuing a music career and singing Egyptian shaabi music. This,
naturally, doesn't go down well with Salma, who constantly berates him for pursuing a career without prestige and for generally
acting like an overgrown teenager. The battle of the wills goes on between them
until Salma decides that she has had enough and leaves, taking their two
daughters with her. From this point on, the film dials the absurdity up to
eleven. Struck by the realisation that they still love each other, they both
engage in some wacky hijinks to get back together again.
Omar's musical mentor proclaims hip-hop to be the Western shaabi. In
accordance with this outlook, which actually borders on genius, Omar's style
combines shaabi music with hip-hop aesthetics and mannerisms; highly sanitised,
candy-coloured hip-hop aesthetics no less. So you get visuals such as guys in
hoodies, chains and baggy trousers break-dancing to shaabi and doing the
running man in synch; more LMFAO than Jay Z. It would be hilarious if it
weren't so cheesy but you'll still find yourself unwillingly chuckling along.
The cheese keeps on coming with plenty of 'wink wink we're in a film' self-references, Tamer Hosny in a Spider Man costume, a fake kidnapping gone serious
and some Looney Tunes-worthy sound effects.
The film moves along quickly, jumping along from joke to joke and skit
to skit with the camera's zooming around between the settings, making the
transition between scenes really zippy. It lags considerably when things take a
turn for the serious as is the case after every fight between the couple. It's
a shame because when things slow down, you get a chance to reflect on just how
silly the film is, thus completely taking you out of the mindset needed to
mindlessly enjoy the film. While the characters are complete stereotypes, props
go to the actors for dealing pretty deftly with the comedy. They manage to pass
off the absurdity without being irritating or resorting to grotesque facial
expressions, and Hosny in particular seems game for pretty much anything.
Considering this reviewer's subzero expectations prior to watching the
film, this was a lot better than expected. It may not be smart but it is often
funny and sometimes all you need of a film is a good laugh.