Open Grave: Mystery Thriller That Just Doesn't Piece Together
Erin Richards

Joseph Morgan

...

Action & Adventure

Thriller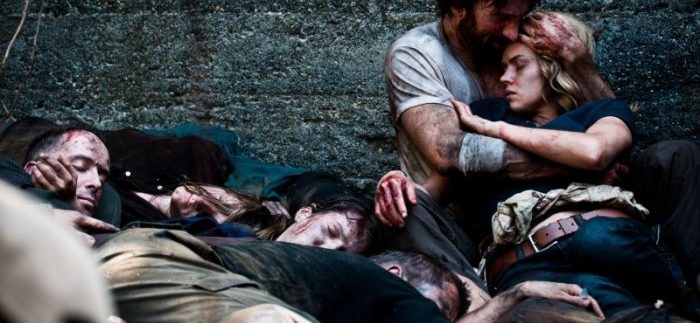 Creating an air of mystery and keeping it alive is one of the biggest challenges in screenwriting. Without a tightly-plotted narrative and engaging characters, the story is bound to suffer. Such is the case in Open Grave; the second English-language feature-film from Spanish director, Gonzalo Lopez-Gallego, which, despite its relatively intriguing premise, doesn't seem to come together and deliver a truly rewarding viewing experience.
Written by Chris and Eddie Borey, Open Grave opens with John (Copley); a grubby-looking man who just regained his consciousness and finds himself stuck at the bottom of a large open-grave pit filled with hundreds of dead bodies. Unable to remember who he is and how he got there, John is soon rescued by a mysterious and voiceless woman, Brown Eyes (Ho), who tosses down a rope and brings him up to the surface.
She leads him to a nearby cabin where he meets four other equally scared individuals, Nathan (Morgan), Sharon (Richards), Michael (Wrottesley) and Lukas (Kretschmann), who, just like him, also have no idea who they are and how they got there. The only thing they know is their name – thanks to the ID cards they found in their pockets – but the reasons of their existence and their current situation is unknown.
The group soon discovers they each possess an individual skill – from weapon-handling to medicine – and they soon put their heads together in order to solve the mystery. Meanwhile, John, who soon starts to unravel his own area of expertise, through a series of agonizing flashbacks where he sees himself committing violent acts of crime, begins to wonder about his own background and true intentions.
Open Grave starts off relatively strong and the writers are successful in building a solid and convincing introduction to the story; the air of mystery that surrounds John's awakening in the pit and the sheer fear of the unknown are both absorbing and compelling. However, the story soon loses steam and the air of mystery is quickly diminished by a series of on-the-nose explanations, conventional set-pieces and clues that just didn't seem to piece together.
The acting is also another deflating factor of Open Grave. Apart from Copley –who manages to keep relatively grounded throughout – everyone else involved seemed terribly underwritten and underused.
All in all, although there are a couple of truly scary moments, the overall affect is unfortunately pretty corny and unmemorable.