Pandorum: A Horror Flick For The New Space Era
Ben Foster

Cam Gigandet

...

Action & Adventure

Horror

...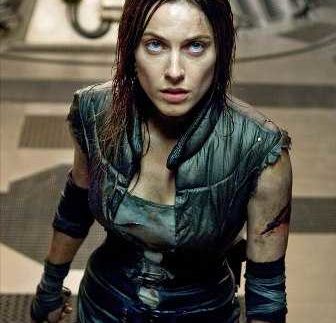 In this
year's sci-fi outerspace thriller, audiences learn yet another
lesson about the perils of being trapped in space and the threat of other-worldly forces.
In a cinematic
world steeped in shadow and peril, two astronauts wake up from hybernation to discover that their spaceship is now completely deserted. They soon discover that they are
not alone, and must fend for themselves in a desperate suspense-inducing
struggle
for survival against an unseen and deadly force.
The film is
part mystery adventure, but mostly pure horror, as the camera peers down
darkened corridors and flees the enemy.
If you have ever
watched Event Horizon, this film will appear eerily similar in its content, make-up
and ideas. While it does succeed in scaring us to some extent, the writing
leaves us a little concerned. Quaid gives a decent performance as
astronaut Payton, who
explores the spaceship and tries to find a way out.
Unfortunately,
much like other space horror films, including Event Horizon, Pandorum gets
bogged down by science fiction theories, taking far too long to get going. In
the end, despite above-average performances, Pandorum struggles to produce an original plot or performance. It is a good attempt at making a truly modern space horror film,
but it still misses the mark.
The
connections between reality and sci-fi are there, but as a viewer, we struggle
a little to take it in. Sadly, Pandorum urges
us to head for the exit just a bit too soon. If you like cheesy horror films,
then this will certainly not disappoint. Just don't expect a masterpiece.