Playing it Cool: Rom-Com Tries Too Hard to Be Quirky
Anthony Mackie

Ashley Tisdale

...
Justin Reardon's feature-length directorial debut, Playing it Cool, sees an attempt at bring some freshness and originality to the rom-com genre falling into the same old clichés.
Dreaming of one day becoming a successful action screenwriter, the main character of the piece – simply referred to as 'Narrator' and played by Chris Evans – isn't all that enthusiastic about being handed the task of scripting a romantic comedy. See, he's never been in love – a side-effect from his mother's abandonment when he was only a young boy – and therefore, he's unable to see himself writing something that he 'doesn't believe in'.
Enter 'Her' (Monaghan); a beautiful young woman he meets at a charity event. Sparks fly and he is instantly smitten; however, she's already engaged to be married to handsome and aloof Brit, 'Stuffy' (Gruffudd). Powerless to get her out of his mind – a place filled with a vivid, and often dramatic, writer's imagination – emotions soon spiral out of control and, well, you know the rest.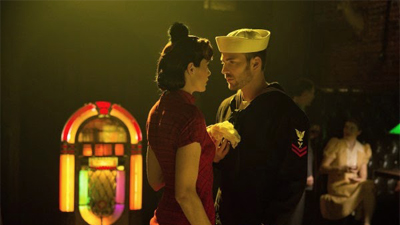 Desperately trying to swerve away from the lovely-dovey trappings of the genre, Playing it Cool is the kind of film that's really difficult to pin-down. Is it a rom-com parody? Or, is it just another movie that begins by dismissing the very notion of romance before eventually falling into the very hole it's been trying to avoid from the beginning? We'll go for the latter. Already drawing comparison to movies such as Amelie and 500 Days of Summer – a notion that's awfully difficult to grasp to begin with – the story lacks the charm, focus and the overall substance that made the aforementioned movies the cinematic success they are.
In fairness, though, the two leads do share some genuine onscreen chemistry; however, the movie's relatively unexciting script is not smart, strong -or creative enough to take advantage of the fact. Monaghan is the stronger of the two; her charm is infectious and it's easy to see why any guy would fall for her while Evans, who just doesn't seem right for the role, tries his best to stick it out. However, just like the story itself, he just doesn't seem comfortable in his own skin – stick to being Captain America.
Essentially, the problem here is that this is a film that tries too hard to be unique, quirky, ironically, doesn't play it cool one bit.