Police Story 2013: Jackie Chan Gets Serious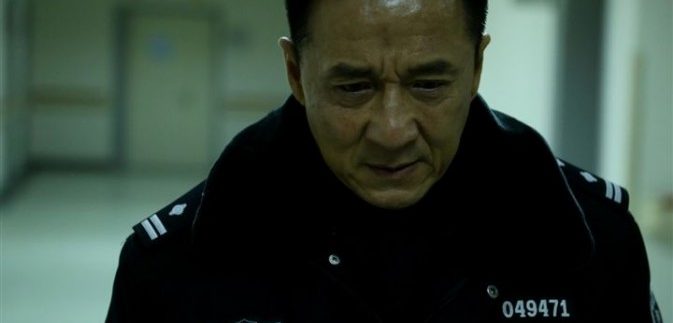 A seeminglt ageless Jackie Chan returns to the big screen in Police Story 2013; the sixth official instalment to the long-running Chinese film franchise which, unfortunately, seems to have forsaken logic and common sense in favour of the outrageous.
Directed by Sheng Ding, Police Story 2013 is centred on Captain Zhong (Chan); a tortured, weathered law enforcer who is still heartbroken over the recent and untimely passing of his wife. So, when he gets a call from his estranged daughter, Miao Miao (Tian) – the rebellious offspring he lost control over six months prior – to meet him for a drink at a downtown nightclub, he is excited at the prospect of re-establishing the father-daughter relationship he so desperately longs for.
However, Zhong is in for a surprise when he spots Miao Miao in the arms of shady nightclub owner, Wu Jiang (Ye), who – as he soon finds out – is to become his son-in-law. Unhappy at the idea of his daughter canoodling – let alone marrying – Miao, Zhong is quick to voice his opinion.
Unfortunately, before he gets the chance of doing anything about it, Wu and his crew lock the nightclub's doors and Zhong, along with his daughter and the rest of the patrons, is taken hostage. A hefty ransom and the release of a high-profile prisoner are demanded and it's now up to Zhong to find a way out of the mess.
Having made a name for himself for his impressive commitment stunt work and comedic timing, Chan – who turns sixty years later this year – looks a little weary and worn out and his usual cheeky charms take back seat – he's almost unrecognisable.
The script has potential, but the execution is extremely messy, the CGI is on the cheap side and the action is scarce, apart from one particularly engagin one-on-one fight scene in the club.
Director Ding takes the film out of its single setting by integrating plenty of flashback sequences which are used to connect the dots between the past and the present. However, he goes a little overboard and there are times when some of the flashbacks used doesn't even seem relevant to the story, let alone make sense.
Overall, Police Story 2013 is probably best described as your Chinese version of Die Hard, minus the humour. Confusing at times, the film takes itself far too seriously for the material used.