Pompeii: When in Rome, Make a Better Film
Emily Browning

Kiefer Sutherland

...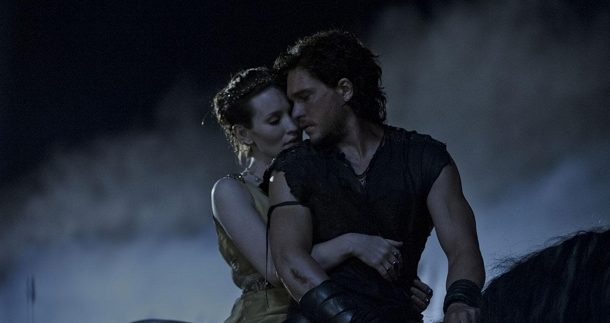 With Resident Evil and Mortal Kombat to his name, Paul W.S Anderson's latest excursion into filmmaking, Pompeii, steps into the past to retell the story of the devastating volcanic eruption that wiped out the entire ancient Roman city.
Set in 79 AD, the story follows Milo (Harrington); a young Celtic who, after witnessing the murder of his parents and his people almost two decades ago, was sold into slavery and brought up to be a skilful, fearless gladiator. Having already proven his masterful fighting techniques, Milo is sent to Pompeii to compete in the local games, where he quickly befriends fellow slave-turned-gladiator, Atticus (Akinnouye-Agbaje).
Soon after, Milo – who now goes by 'The Celt' – catches the watchful eye of Cassia (Browning); the beautiful daughter of wealthy merchant, Severus (Harris), who is equally smitten by the hard-hitting fighter. Unfortunately, Cassia's hand has already been promised in marriage to evil Roman Senator, Corvus (Sutherland) – the man directly responsible for Milo's parents' death.
With the games just around the corner, Milo and Atticus join forces to figure out a plan to survive the numerous challenges that await them. Whilst everyone is busy preparing for the spectacle, the nearby volcano of Mount Vesuvius slowly begins to roar back to life.
Bulking up for the role, Harrington – best-known for his role in Game of Thrones – definitely looks the part of an uncompromising gladiator. However, his performance comes across as dull and lifeless; aside from offering a few impressive butt-kicking brawls, Harrington spends most of his time sulking, while looking completely unresponsive to his surroundings. Despite sharing very little chemistry as star-struck lovers, Browning's performance was a little more engaging. On top of this, Sutherland's curious accent and exaggerated performance makes the 24 star one of the most peculiar on-screen villains of the past few years.
Other than a few impressive, dark and unnerving special effects, there is nothing else holding Pompeii together; the story is unfocused and the dialogue is completely ineffective in contributing to the story, while the film seems undecided on whether it wants to be a Gladiator-inspired revenge epic, or a serious volcano disaster movie.