Rad Fe'l: Egyptian Murdery Mystery Mess
Amr Youssef

Halla Sedki

...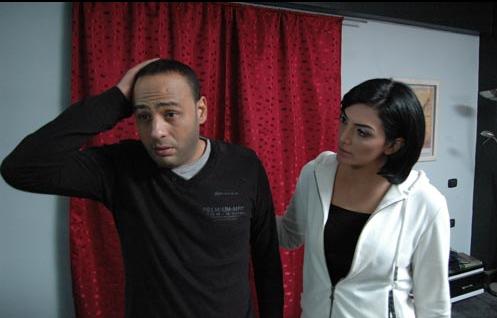 The chain events in Rad Fe'l
(Reaction) begins when a doctor dies of natural causes in his flat after a
birthday party thrown for him by his neighbours. Soon enough, these neighbours
start getting brutally murdered, one by one, to the police's utter
mystification. Coroner Tarek (Abdel Moghny) and Officer Hassan (Youssef) team
up to find the murderer before he finishes off everybody in the building.
They're unable to think up a motive for the murderer or find a link between the
murders other than the fact that the victims all live in the same building.
It's only when Tarek's cousin Radwa (Farghali), a PhD candidate specialized in
psychiatry, becomes involved that they're able to make sense of the whole thing
and pinpoint the perpetrator.
The film is intended as a whodunit – murder mystery – thriller type. For
one, there's absolutely no tension. Every time somebody's about to die, your
instinct is to yawn instead of to hold onto the edge of your seat. The
murderer's preferred method happens to be a very clean and efficient throat
slitting that you'll miss if you blink. The one time that the film does get a
physical response from the viewer is during a wholly unnecessary pounding given
to a petite female who is beaten and has her head smashed into glass repeatedly
until she dies.
The only actors that emerge from this mess with their dignity intact are
Youssef and Intessar and that's mainly because they steer clear of the strange
facial contortions and overacting that their co-stars seem so fond of. The
acting of Abdel Moghny in particular is reminiscent of some of the cheesier
Egyptian soap operas. In fact, some parts were just so over the top, that many
viewers in the cinema just couldn't contain their laughter. The film's
atmosphere doesn't help much either. The film is either swathed in shadow or
bathed in this overly yellow sun kissed glow. The lighting was just plain
strange. One particularly baffling example was a close up of Tarek's face where
his cheeks were lit but his eyes were completely in the dark. It was genuinely
distracting.
Towards the end, a psychological twist is added to the film and it
couldn't have been less thought out. As proof of the murderer's psychiatric
issues, a montage of little incidents from the film are played in succession
which only highlights the absurdity of the plot point and raises more questions
than it answers. Said issues are both completely farfetched and portrayed in
the most clichéd, unsubtle way possible.
Shoddy doesn't even begin to cover the mess that is this film. The
plot's barely coherent, the acting's completely hammy and the film's climax
shows up with a whimper instead of a bang.