Red Dawn: All-American Cheese
Adrianne Palicki

Chris Hemsworth

...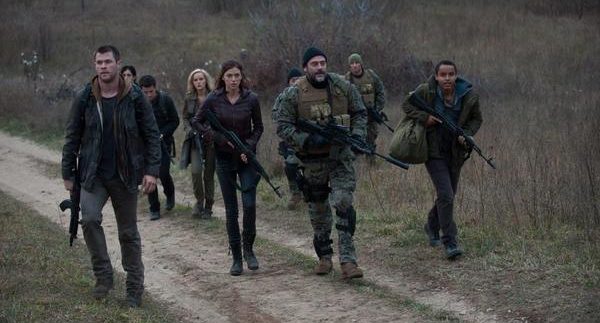 It was 1984 when the Soviet army decided to invade a small town in Colorado, leaving the fate of the entire country in the hands of a group of guerrilla-type teens. Stirred by the fairy-tale and little boy's war-game fantasy, director Dan Bradley decided that a remake of this mindless and unsavoury story was a good idea.
Yes, the idea of young teens fighting against the invading forces all alone is still ridiculous now as it was back then and Bradley's attempt to re-create something from nothing falls flat on its face.
The new and not-very improved
Red Dawn
opens up with Jed (Hemsworth), a Marine who recently got shipped off to Afghanistan, returning home for some much needed family time. His younger brother, Matt (Peck), a high-school quarterback with a cheerleader for a girlfriend, (Lucas) is still resentful of his brother's decision to join the forces and is a little less-than welcoming to his brother's return.
Soon though, their estranged relationships and Matt's stinky attitude are put aside when they awake next morning to the North Korean invading forces parachuting their way into their sleepy town. Jed and Matt and a handful of friends quickly retreat it to the mountains, as instructed by their police-officer father (Cullen), in order to seek refuge. There, they are soon transformed into the region's most infamous freedom fighters called the Wolverines – named after their high-school football team – who start ambushing and sabotaging the occupying army.
Red Dawn
's biggest problem lies in its credibility. Even though this is still fiction, and things in motion-pictures aren't always realistic and don't always make sense, the idea of teenagers turning into hard-hitting commandos overnight is a little too cringe-inducing. The choppy script from the writers Carl Ellsworth and Jeremy Passmore makes it difficult to figure out who's who, as the film is over-stuffed with characters that tend to disappear from the screen with no explanation.
However, the picture, directed by the renowned stunt coordinator Dan Bradley, does offer a few slick action scenes – if you can manage to look past the shoddy camera work.
Hemsworth, although very high on the 'cheese radar', is a perfect fit for the role of Jed; a loyal marine who takes control of the group and adds some much needed bravado. Morgan, a rogue colonel who later joins the Wolverines, also offers some well-grounded and much-needed acting dexterity. As far as the rest of the cast is concerned, their so-called performances unfortunately barely register; truly uninspiring and forgettable.
On the whole,
Red Dawn
, with its stale repetition of disillusioned teenagers on a power trip, is nothing but a generic time-passer, made exclusively for those who really have nothing better to do with their time.