Ride Along: Forgettable Buddy-Cop Comedy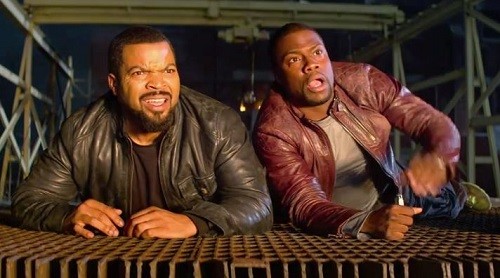 Set on the streets of Atlanta, Tim Story's buddy-cop action-comedy, Ride Along, revolves around Ben (Hart); a fast-talking, video-game fanatic and a high-school security guard who is unexpectedly accepted into the police academy.
Things are looking up for Bret, who is also planning to marry the love of his life, Angela (Sumpter), but can only do so after he has gained the blessing of her older, overprotective brother, James (Ice Cube) – who just happens to be a cop.
James is a man who has no friends and doesn't take a liking to strangers all too easily; however, he is willing to give Ben a chance, and offers to take him on a 'ride-along' while on duty, in order to prove his physical and mental endurance.
Finding himself on foreign ground, Ben manages to withstand the pressure, however, their expedition soon lands the duo into a dangerous territory, as they end up on the trail of Omar (Fishburne); a deadly kingpin, whom James has been wanting to get his hands on for quite some time.
As his usual scowling self, Ice Cube ends up puffing and huffing his way through the lines and ultimately fails to add any redeemable qualities to a character that ends up comes across as an annoying and infuriating jackass. Hart, on the other hand, is the film's source of humour and manages to hold viewers' interest.
There is nothing new on offer in this latest unlikely-buddy onscreen matchup that you haven't seen before. The one-liners are corny, the plotline rehashed and the action sequences are too hectic to even decipher which side the bullets are coming from.
With a lack of onscreen chemistry, an unimaginative storyline and a heavy dose of generic humour, Ride Along, isn't necessarily awful; it's just very forgettable – which is almost worse.