Saving Mr Banks: Charming Story Behind the Making of Mary Poppins
Colin Farrell

Emily Blunt

...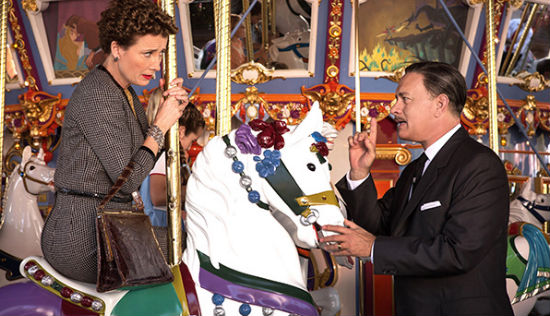 Mary Poppins first descended from the clouds in 1964 and now, in honour of her fiftieth birthday, director John Lee Hancock unveils the story behind the making of Walt Disney's legendary, heart-warming musical, in the equally endearing, Saving Mr. Banks.
Set in 1961, the story is centred on P.L Travers (Thompson); the no nonsense, straight-talking author of Mary Poppins, who for the last twenty years, has refused to sell the rights to her book to the ever-so persistent Walt Disney (Hanks).
However, after not being able to publish anything for a long time – and now being faced with the risk of losing her London-based home – Travers reluctantly agrees to be flown over to L.A, but only after being assured that she will have the final say over the script. Soon upon her arrival, though, tensions rise, and after meeting the screenwriter, Don DeGradi (Whitford), and the enthusiastic song-writing brothers, Richard (Schwartzman) and Robert Sherman (Novak), it becomes clear that Mrs. Travers is not going to be easily won over by the jolly nature of the proposed screenplay.
Travers us utterly appalled and revolted by the prospect of having her beloved story being turned into an animated-musical, whilst Walt, along with his team of creators, desperately try to persuade her to give in. In order for her to do that, though, Travers must first face her childhood traumas.
As someone well-known for her incredibly powerful onscreen presence, Thompson does not disappoint. Embodying the snappiness and unbending nature of Mrs. Travers, the actress is utterly riveting and manages to deliver an incredible amount of character and deeply-felt sentiment to her part. Equally as pleasing, Hanks captures Walt Disney's well-known mannerisms down to a tee, and delivers yet another exceptionally charming performance. The rest of the supporting cast, including Giamatti as Travers' limo-driver and confidante, are all correspondingly amiable and well-incorporated into the storyline.
With the exception of clouding, and sometimes distracting, flashback sequences that take the film back and forth from Travers' childhood in 1906 Australia, the film is generally well-paced.
Saving Mr. Banks is incredibly moving, funny and surprising; who knew there was so much controversy and difficulty behind the making of one of the most celebrated film musicals of all time? It's a supercalifragilisticexpialidocious-ly pleasing film for the entire family.