Scott Pilgrim Vs. the World: Life as a Video Game
Action & Adventure

Comedy

...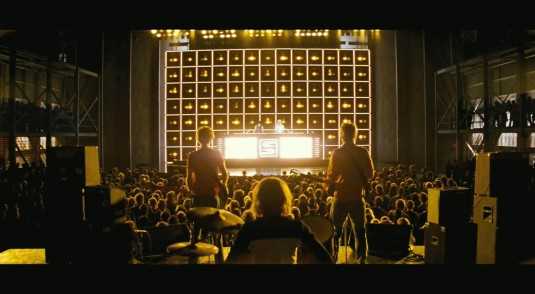 There isn't a clear point of reference to pin down where Scott Pilgrim's style, worldview or logic originated. It's a pop culture melting
pot where manga, rock n' roll and video games are mashed up together to form
something completely original with its own unique visual language. So much
about Scott Pilgrim is unworldly and
fantastical that by the time an emo boy smashes through the wall to duel Scott
(Cera), it comes off as perfectly normal; if not inevitable.
The film is based on the comic book sensation of the same name where– almost
like the classic Super Mario Bros game– Scott Pilgrim has to fight a league of
evil exes to get to Ramona (Winstead), the girl of his dreams. And just like in
the video game, Scott wins bonus points and collects scattered coins after he
completes each level.
Set in the city of Toronto,
Scott Pilgrim's world consists mostly of hanging out at trendy venues, record-shopping,
ranting with his friends over coffee and practicing with his garage band, Sex
Bob-omb. His life is plagued with callousness and drenched in irony, and even
his likeminded peers give him a hard time about his frivolousness. When he
first meets Ramona, his infatuation finally gives him the drive to go out and aspire
to something.
As Scott engages with Ramona's exes in one eye-popping fight scene after
another; his state of arrested development gets challenged. Here, the film
uncovers the insecurity of a generation that is so hung up on being cool; it
stifles their emotional development.
Director Edgar Wright (Sean of the
Dead, Hot Fuzz) stretches the full power of his imagination here. His
cinematic and pop culture wealth serves him best when he transforms the panels onto
the screen, pushing the sequences through a video-game filter and then
rendering them in flawless, cotton-candy veneer. The inventive pacing blurs the
timeline; so the film can follow emotional threads uninterrupted without
feeling tricky or conceited.
Despite the film's visual inventiveness and joyful demeanour; there is a
fundamental flaw undermining Scott
Pilgrim: the vacant emotional core propelling the central romance. In the
nonstop calibration of everything hip and witty, the film can never bring
itself to deliver a single moment of genuine sorrow without shrugging it off
instantly. When Scott breaks down in front of his roommate in a desperate plea
for human compassion, his friend gives him a pep talk right out of a soap opera, which is
further emphasized by a sappy score; playing the drama for laughs instead of
digging for any hidden truth.
Scott Pilgrim works for the most
part, and even though it consciously chooses to shun humility and heart in favour
of retaining its edge; its visual and narrative invention are undeniably groundbreaking.
From start to finish, the film blasts feverishly with an infectious sense of fun.
It's an invigorating ride in a world where videogame logic prevails, and love
is just a push button away.