Silent House: Tense, Edge-of-Your-Seat Horror
Adam Trese

Elizabeth Olsen

...

Eric Sheffer Stevens

Laura Lau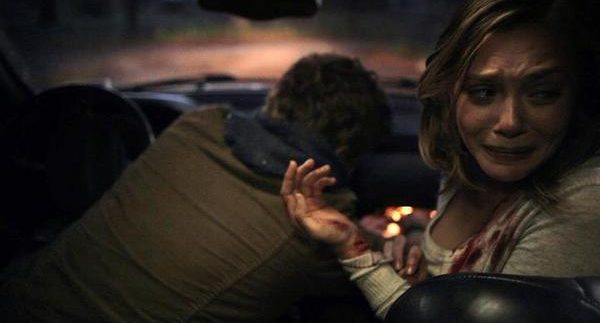 Sold on a gimmick which
turned out to be untrue, not that you'd know it by watching the film, Silent House is nevertheless one of the tenser,
well acted thrillers that have come out this year. The gimmick, of course, is
that the film is all one shot. The reality though, is that it was filmed in ten
minute segments then edited together. The editing is seamless and you wouldn't
have reason to doubt the filmmakers if you hadn't known beforehand that the
film wasn't all shot in one go.
The film follows Sarah
(Olsen) as she, her uncle Peter (Stevens) and her dad John (Trese), prepare
their summer home for sale. The house is old, in terrible shape and more
frequently occupied by squatters than its actual owners. Sarah, who's already a
pretty jumpy individual, finds herself trapped in the house with no way out and
no means of communication with the outside world. If that sounds ridiculously
vague it's because we're trying not to spoil the film and any details more than
that probably will.
The camera, which thankfully
is not headache-inducing despite its constant movement, focuses mainly on
Sarah, allowing us to experience the action from her point of view. There are
plenty of close ups on Sarah's face which, combined with the fact that the bulk
of the film takes place inside a moldy, creaky house with locked doors, boarded
up windows and no power, makes the film pretty claustrophobic.
Olsen proves herself highly
capable of carrying a film. In one line, she manages to be infantile, scared,
psychotic and vengeful. Her body language, tone of voice and facial expressions
are so expressive; the film wouldn't have worked half as well without her,
especially as it generally focuses on her reaction to the things happening
around her and less on the action itself.

Contrary to what usually happens when
films rely on reaction shots, it doesn't feel like a cop out or the sign of a
low budget. Instead, it helps us connect with Sarah and lets us delve into her
psyche. Silent House is less of a
Boo! Monster! type of horror film and more of an intense psychological
thriller that genuinely manages to keep you guessing. The third act brings the
film's psychological undertones to the forefront, completely screwing with
everything that had happened before. It's a polarizing ending, one that many
people will regard as infuriating, but as with the rest of the film, this
reviewer loved it.