Adam G. Sevani

Alyson Stoner

...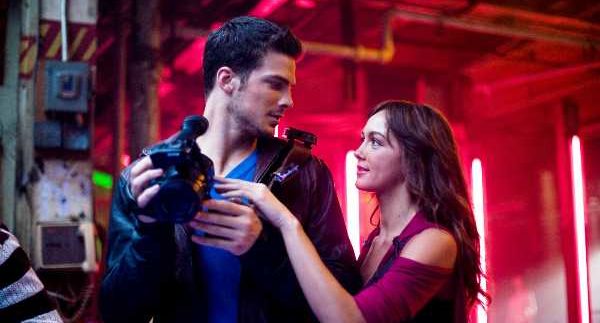 The easiest way to bash a film would be to claim that the story was full
of clichés, and nine times out of ten, that argument holds its ground. If the
drama is flawed and the characters are transparent, how are we expected to stay
engaged throughout the film?
Step Up 3D is an exception
to this rule: the film manages to gather every predictable rom-com and
teen-rebellion cliché and make it work. Dumbed down genre films like Step
Up rely solely on their ability to deliver on their singular promise, which
in this case is to give us dazzling dance numbers in eye-popping 3D. From start
to finish, the complex, choreographed routines explode onscreen with sugar-high energy, winning over even those with the most kill-joy of hearts.
As for the plot, it's excessively ridiculous. The film focuses on Moose
(Sevani), the scene-stealing nerdy kid from the prequels, who starts his first
semester by studying engineering. Through no fault of his own, he
unintentionally dances off with a member of the House of Samurai, an evil dance
crew.
We discover a mysterious world of rogue dancers all living under one
roof in an old warehouse, like a guerrilla resistance army. Since the misfits all
have nothing left in their lives, they train all day. Luke (Malambri) plays a
father figure to the dancers and takes care of all of their needs. Warning bells
are set off when the bank threatens public auction if Luke fails to pay the
warehouse's rent. For much of the film, stakes just keep piling up in much the same way.
Just as Amr Diab found a golden opportunity in a singing competition
in Ice Cream fi Gleem, Luke and his house
of pirates stumble upon a dancing competition with a sizable cash prize that would
solve all their problems. They duel their way to the top in dance battles
against other crews until they face the Samurais in the final battle.
Actors in this case should not be judged by their acting ability, but by
the energy that they bring to the dance floor. Although the dance numbers in Step Up 3D are not diverse in their style,
they are all highly energetic and enjoyable, culminating in an impressive
swooping dance finale that pulls out every trick hidden up the film's sleeve.
The song choices in Step Up are
all top-notch dance-floor hits that please even those who are not necessarily
big fans of the genre. As for the 3D, this might be the best use of the
technology since Avatar. Shot using
the same true 3D camera technology that brought Avatar to life, the three-dimensional quality pops on the screen
like a Skittles explosion.