Stolen: A Very Cagey Affair
Danny Huston

Josh Lucas

...

Action & Adventure

Drama

...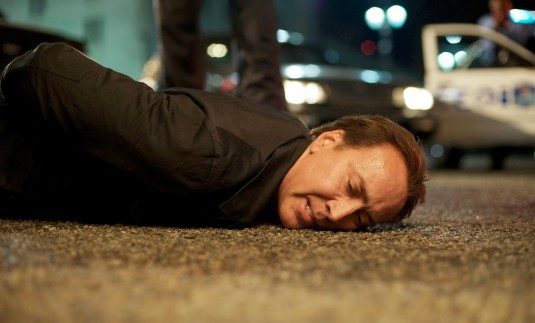 Nicholas Cage does it again. Yes, another B-film from the actor that seems to have lost touch with the art of filmmaking and who continues to lower his standards – and expectations – when it comes to choosing his film projects. The director, Simon West, who brought us
Con Air
(1997) and was the executive producer of the iconic
Black Hawk Down
(2001), doesn't seem to have much enough effort and time in his latest feature.
The dreary plot is centred on accomplished career criminal, Will Montgomery (Cage). After a bank job-gone-wrong – where Will resorts to shooting his long-time partner Vincent (Lucas) in the leg to prevent him from murdering a witness – Will is left to fend for himself and he soon falls into the hands of relentless FBI agent, Tim Harland (Huston). The loot, worth $10 million, is thrown into a fire and gets burnt before Will is taken away to prison.
After his release, eight years later, Will decides to stay on the right side of the law and tries to make amends with his estranged daughter Alison (Gayle). He soon learns that his ex-partner Vincent has taken the road to madness and faked his own death and now impersonates a taxi driver.
Resentful of Will, Vincent is certain that the stolen money is still out there, hidden away somewhere for a rainy day. In order to get his hands on his share of the loot, Vincent kidnaps Will's daughter Alison and demands the cash. Unable to seek help from FBI agent Harland, who is still following his every move, Will is forced to pull off another robbery to raise the funds for his daughter's release.
Even though the film is true to its genre and holds plenty of action, it feels like it has no direction and ends up being a little bit disjointed. The sense of urgency that the story needs is never felt and screenwriter David Guggenheim's dialogue is highly questionable. The story is lazy and shows a lack of commitment from everyone involved. Simon West fills this sluggish cat-mouse chase with a lot of running around and jumping from one car roof-top to another, completely disregarding the ticking clock.
Cage looks bored and out of breath most of the time. His expressionless face doesn't give away too much and he has to rely on some Swedish linguistic skills to keep things interesting. As a mad-man out for revenge, Lucas goes for a ridiculous, over-the-top performance. His stoned look is accompanied by greasy hair, a mutilated hand, a prosthetic leg and a rather distressing accent that brings some unintentional comic relief.
As an obsessive FBI agent, Huston looks uncomfortable in his own skin. Perhaps, the porkpie hat he wears throughout the entire film has got something to do with it. West uses the streets of New Orleans as a backdrop to the story, introducing the city as a character of its own. However, it never really gets a chance to shine and falls into the trap of being caricatured, like the characters.
Shamelessly unintelligent, illogical and cheesy,
Stolen
is just another one of those Nicholas Cage flicks that can and should be easily overlooked and avoided.