Stone: We Are All Sinners
Edward Norton

Milla Jovovich

...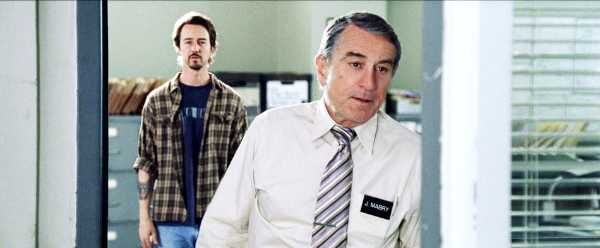 A hurdling drama that feels less like a film and more like an
acting-class showdown, Stone features
two undeniable acting powerhouses playing against type with impressive results.
However, the fine thespian duel of De Niro versus Norton is not enough to
distract from Stone's glaring lack of
central conflict or purpose.
Stone amounts to a
string of confrontational scenes between a parole officer (De Niro) and a
hillbilly inmate named Stone (Norton), where they both bark at each other
relentlessly. It's De Niro's last days on the job, and more so than ever, he
wants to be in control. Yet after a lifetime of being surrounded by sinners, De Niro
seems to have lost the plot as well as his faith in the system.
What the film returns to again and again is the idea of atonement. Stone
thinks that all God's creatures are flawed, and that it is hypocrisy to expect
them to honestly promise to live untainted by sin. He doesn't want to give De
Niro another speech; he wants to pull him into the simmering inner conflict that
he himself is struggling with.
Much self-questioning and doubting ensue, and Stone strays away from the usual crime trajectory. It substitutes
tangible twists and turns for internal dilemmas and a continuously building tension as
the film goes along; but it never gets released. Stone also regurgitates far too much hokum at every opportunity, be
it from the AM Radio that De Niro listens to on his way to work, or the book
passages that Norton cites; thus overbearing the viewers.
Stone does bear a
little surprise, though; and it comes in Milla Jovovich's role as Norton's
wife. Jovovich has been quietly building a humble but admirable film career,
and in Stone, she's finally in
control of her instruments and keeping up with, if not surpassing, these seasoned
actors.
It's a marvel to watch both De Niro and Norton challenging each other on
screen. De Niro hasn't been this memorable in a decade. While Stone
won't necessarily be remembered as one of his best performances; it's the old,
hungry De Niro that we see on screen, not the new one that showed up to cash the
checks.