Teta Raheeba: A Comedy of Errors
Amy Samir Ghanem

Bassem Samra

...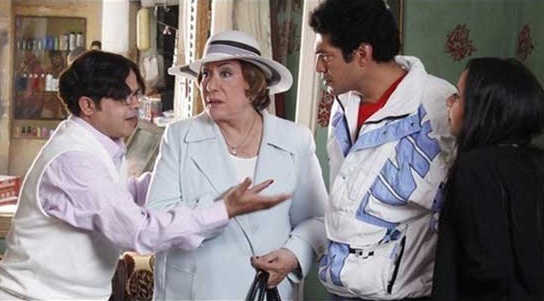 After a physically and emotionally abusive childhood, Raouf (Heneidy)
grows up to be a stunted human being, forever living in the fear that his
grandmother Rawiyah (Ayoub) – the source of his misery – would return from
Germany to which she'd disappeared after her divorce from Raouf's grandfather.
When his granddad suddenly dies, she resurfaces, moves in with Raouf and
proceeds to destroy his life in the name of love, while focusing especially on
wrecking his relationship with his fiance Manar (Ghanem) who she deems to be
beneath him.
Heneidy, working his baby-face all the way to the bank, stars as Raouf
and does a remarkably non-irritating job of it, despite being clad in Harry
Potter glasses, a ridiculous wig and terrible shirt/vest combos. However, his
role – and by extension, the film – isn't straight up comedy. His character is far
too pathetic and his grandma far too harsh for that. It's like how Bridesmaids was being touted as a comedy
in the vein of The Hangover except
you'd watch it and find yourself crying along with a depressed Kristen Wiig
instead. Teta Raheeba, while no way
near as depressing or as good a film as Bridesmaids,
does have an undercurrent of sadness that prevents you from truly laughing. Its
humour is also hit-and-miss so that also contributes to its lack of laughs.
While Heneidy's character is straight out of a lame comedy looks-wise
and, to a lesser extent, performance-wise, Ayoub's character is a complete
bitch. The woman is an evil incarnate and she's not even deliciously evil or
campy; she's the kind of mean that makes you want to crawl under your bed and
hide. Living with her character seems more tragic than comic and as a result,
the film's tone is all over the place. It's a flaw that seems to be more as a
result of directorial problems than anything to do with the actors who are both
generally fine.
Another problem, and one that's far more dire than the film's tonal
issues, is its major cop out of an ending; a neat little package that makes
Raouf seem more pathetic than he already does.

On the plus side, the film has a pretty cool supporting cast. Samra and
Sarhan are hilarious as Manar's trigger happy brother Ibrahim and a police
officer adjusting to life after the revolution, respectively. The film mercifully
eschews the mandatory singing interlude and there isn't one irritating kid in
sight. As far as Eid films go, Teta
Raheeba is far better than Sakka's lame attempt at comedy.