The Back-up Plan: J-Lo's Broken Comeback Vehicle
Alex O'Loughlin

Jennifer Lopez

...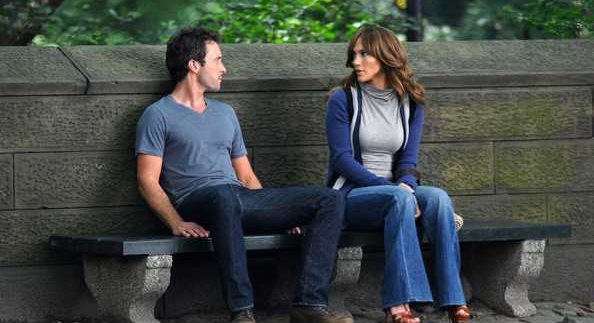 2010 is the year of cinematic babies. There is the
documentary Babies, Jennifer
Aniston's upcoming The Switch, and
there is The Back-up Plan, Lopez's
desperately adorable comeback vehicle. Whether or not you like The Back-up Plan depends entirely on how
you feel about watching its lead running around asking her male friends for
their specimen.
After a flawless, old-school rom-com intro, we meet
Zoe (Lopez) who just got artificially inseminated a few seconds ago. The timing
couldn't be worse; as Zoe bumps into the perfect guy, Stan (O'Loughlin) right after she walks out of the doctor's
office. She hates him at first, but it's obvious that she's only playing hard
to get. If you're above the age of five; you don't call someone you truly
despise a stupid-head.
Zoe's close friends are becoming increasingly
judgmental about her choice of artificial insemination; so she joins a support
group for single zany mothers. Meanwhile, Stan is still trying to impress
reluctant Zoe and win her over– and he does. Right after their first amazing
date, Zoe finds out that she's pregnant. Poor Stan had no idea what he'd signed
up for.
Will Zoe and Stan stay together after he learns about
her pregnancy? Is he The One? These are all questions the film ponders on, but
perhaps the question that matters the most for us is this: is The Back-up Plan a good chick-flick? We're
afraid it's not.
One problem with the film is how desperate it is, while
its biggest let-down is its sloppy comedy. The film's director was probably shooting
for organic effortless comedy and conflicts; but unfortunately, none of the
actors have comedic chops as good as their bodies.
The Back-up Plan
is like a blank MS office template; it has all the makings of a really good
product but with empty fields. All the elements of a good film are there;
they're just left blank, and subsequently the film feels shallow and
calculated. However, the aging J-Lo is still cute and relatable. More so, she
does a good job carrying the film. So, if you like to spend less than two hours
with Jenny from the block; go ahead and watch The Back-up Plan: she's there in every frame of it.