The Cabin in the Woods: Brilliantly Daring Meta-Horror Masterpiece
Anna Hutchison

Bradley Whitford

...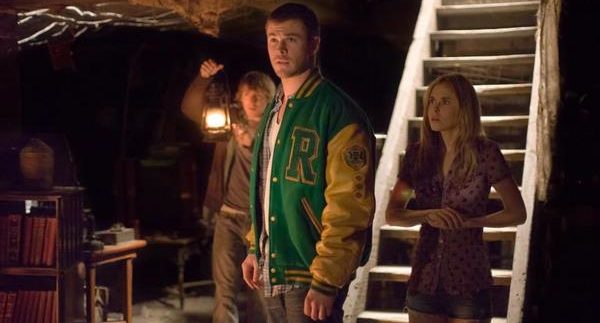 Attention horror film fans! With the production being delayed for over two years, The Cabin in the Woods has finally made it to the big screen. Written and co-directed by Drew Goddard, who made his penning debut in monster film Cloverfield back in 2008, and Joss Wheedon, the creator of Buffy the Vampire Slayer, The Cabin in the Woods is big, bold and a breath of fresh air.
The cleverly written screenplay makes the film tricky to discuss without giving away too much; the less you know the better. Suffice to say, the story follows a group of five college students who head out to the 'Cabin' for a weekend getaway.
Sound familiar? Sure, it's got that 'been there, done that' feel to it. However, the film digs deeper. The story keeps cutting to a quasi-military scientific facility, led by Sitterson (Jenkins) and Hadley (Whitford), who monitor and keep a close eye to close-circuit TV cameras along with an army of supporting staffers and technicians. Their intentions are unknown and nothing in this film is quite what it seems.
The Cabin in the Woods offers a gripping journey to the dark side and all whilst cleverly recalibrating the genre expectations. If you're a true horror fan and are familiar with a classic called The Evil Dead (1978), you will have a better idea of how far this film will go. With that said, bystanders to the horror genre can also get a pretty good liking out of this film, as it communicates on many levels and you don't need to hold an expert degree to enjoy it.
Hats off to the director Goddard (who makes his directorial debut with this film) and writer Joss Wheedon for keeping the level of suspense high. It's what keeps the film going and the audience enticed. Rock solid performances by the entire cast, especially by control room operators Jenkins and Whitford, contribute as well. Their banal conversations and peculiar banter come across as eerie and spine-chilling. Just what the doctors ordered, no doubt.
To understand what The Cabin in the Woods is all about, you need to actually watch it. The online chatter and even the official trailer gives away more than it should. As a disturbing work of art, The Cabin in the Woods doesn't depend on a single shock twist, but on little revelations that come together as a puzzle.