The Choice : Another Sappy Nicholas Sparks Romance Adaptation
It should be pretty clear by now that if you've seen one Nicolas Sparks film – Notebook, The Last Song, A Walk to Remember – you've seen them all. Continuing in the trend of relentlessly sappy romantic melodramas, The Choice – adapted to the big screen by Bryan Sipe and directed by Ross Katz – will speak to those who are willing to listen. However, those who prefer their movies with a little less cheese might want to rethink their order.
Set in a small idyllic coastal town in North Carolina, the story is centred on Gabby Holland (Palmer); a medical student who has moved away from the chaotic city life for some peace and quiet while studying to become a doctor. Unfortunately, the peace she was looking for is not to be found as she has moved in next door to, Travis Shaw (Walker); a handsome veterinarian, who, along with his on-and-off girlfriend, Monica (Daddario), enjoys throwing loud parties and get-togethers, much to Gabby's distaste.
At first, the two are at each other's throats, with Gabby not withholding her obvious exasperation with the hunky neighbour. However, when their significant others – including Gabby's boyfriend Ryan (Welling) – conveniently disappear from the picture for a few days, it's not long before the two fall for one another.
Logic, common sense and reality, are nowhere to be found in this idyllic romantic setup, set along a sun-dappled coastline where each sunset is better than the next. For fans of this particular brand of romantic movie, what 'connection' the two leads manage to cultivate is satisfying enough. Unfortunately, for those who might be a little bit more grounded and connected to reality, this latest heavy serving of romantic sap just won't do.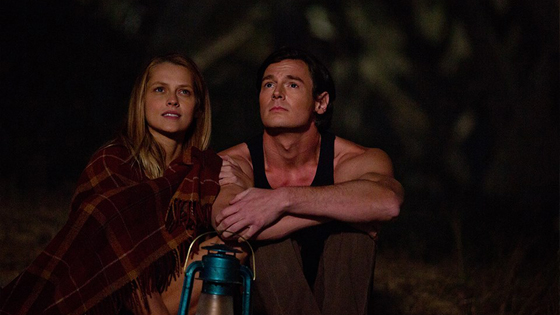 Sticking unremittingly to its formulaic mould, The Choice – boasting all of the worst romantic movie tropes under the sun – is the definition of derivativeness, featuring plenty of hand-holding, eye-gazing and corny romantic exchanges. The leads, although, pretty to look at – this is a Nicolas Sparks movie after all – are just not strong enough to carry the film through; Palmer's overacting is bothersome at best, while Walker largely serves as the eye-candy of the piece.
All in all, those who enjoy the comfortable predictability that can be found in Nicolas Sparks stories, will definitely find something to like about the author's eleventh book-to-screen adaptation. It's everyone else that we're worried about.