The Danish Girl: Redmayne Stakes His Claim for Oscar in Picturesque Drama
Alicia Vikander

Eddie Redmayne
Based on David Ebershoff'novel of the same name, Tom Hooper's The Danish Girl, is certainly beautiful to look at. Beyond that, however, the emotional complexity needed to project the weight of its subject – namely the plight of transgender people – isn't quite there.
The story is set in the mid 1920's and begins in Copenhagen, Denmark, where married artists, Einar (Redmayne) and Gerda Wegener (Vikander), live a relatively happy life together. While Einar is the more successful of the two, their relationship is almost picture-perfect.
One day, when friend and ballerina, Ulla (Heard), fails to show up for a portrait sit-in, Gerda asks Einar to step in. Asked to put on a pair of women stockings and a frilly dress, something inside Einar stirs, immediately filling him with an equal amount of excitement, shame, fear and, most importantly, realisation as he comes to discover a newfound, repressed part of his identity – one that speaks to the female gender. At first, this is fully embraced and supported by Gerda, who even sets-up a 'girls' night out to test the reaction of strangers. However, the birth of Lili Elbe is, as she soon finds out, not a passing thing for her husband who – as each day passes – is finding it more and more difficult to continue the life he has lived.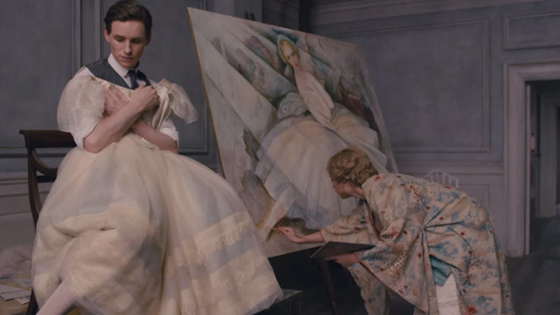 Building on last year's Oscar-win for The Theory of Everything, Eddie Redmayne is once again the talk of town – and rightly so. The young Brit manages to offer yet another physically and emotionally demanding performance as a mind trying to transcend its body. And while his subtle facial expressions and body language are perhaps a little too mechanical, his ability to separate the confused Einer from the much more liberated and graceful Lili is a fantastic to watch unfold.
Meanwhile, Vikander is just as captivating – if not more – as an incredibly loyal and devoted wife who is forced to watch the husband that she knew transform and slowly slip away from her grasp, which comes with its own emotions and challenges.
The problem with The Danish Girl, however, is the film's over-indulgent aesthetic. Hooper and cinematographer, Danny Cohen, execute every scene with a technical flawlessness, but it doesn't frame its story aptly, instead acting as a barrier of sorts that glosses over what is still a very relevant and topical subject. The divisive issues attached to the story are rarely given a chance to fully unravel, leaving you with an ever-so isolated and distant viewing experience.