The Dark Knight Rises: A Perfect Conclusion
Anne Hathaway

Christian Bale

...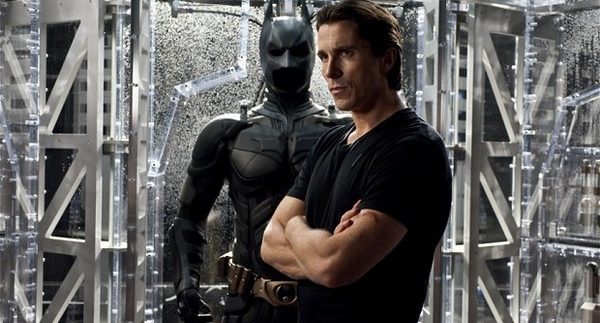 Picture this; first day of release (in this country anyway), midnight
screening, the last instalment in a phenomenally successful trilogy and not an
empty seat in the house. That alone is the kind of atmosphere that would take a
cinema going experience to the next level. The fact that the film, in this
reviewer's humble opinion, is the best out of the entire trilogy, not to
mention a total crowd pleaser, is just the cherry on top.
This time around, Bruce Wayne AKA Batman (Bale) is a depressed recluse
who categorically refuses to vacate his house, tinker in his bat cave or fight
crime, preferring instead to mope over his girlfriend's death in the last film.
He's forced out of retirement, however, when Bane (Hardy) shows up in Gotham,
takes control of the city and ignites an all out class-war; one set against the
backdrop of the threat of a nuclear bomb that could explode at any minute,
reducing the city, and everyone in it, to ashes. With only one true ally, Blake
(Gordon-Levitt), a police officer and one of the only people left with faith in
Batman, and another, Catwoman (Hathaway), who's far more interested in self
preservation than in any bigger schemes, Wayne has to find it in himself to
regain the will to live, bring back Batman and take down Bane.
In the interests of honesty, this reviewer was never a fan of the first
two instalments in Chris Nolan's Batman trilogy and as a result, wasn't exactly
enthusiastic about the third. The first two suffered from an embarrassing lack
of female characters and the only major one, Rachel played by Holmes in the
first and Gyllenhaal in the second, was near useless. Then you had the tone and
mood of the series which was generally much too serious and bleak, more than
any superhero flick would ever warrant. Bale's bat voice was another major
question mark and one that's been replaced by an even bigger one in the form of
Bane's voice (In his case the mask makes it logical but it still doesn't
explain the fluctuations in Hardy's manner of speaking). In this part
however, we're happy to say that these kinks have mostly all been ironed out.
The film kills two birds with one stone in the form of Hathaway's
Catwoman. She provides an awesome female character, one that's far more entertaining
and deep than a femme fatale should ever be – Hollywood, can we get a spin-off?
You owe us one after the Halle Berry debacle. The Dark Knight Rises isn't The
Avengers, i.e. nobody's wisecracking all over the film or flinging
Shakespearean insults, but Catwoman has a wry and sarcastic sense of humour
that keeps the dourness of the series intact without going into overdrive. Hathaway's
performance is perfect; by far the best and most memorable in a generally very
well-acted movie.
Similarly fantastic is Gordon-Levitt. His character could have very
easily devolved into Batman's number one cheerleader and your run of the mill,
boring, good guy, but instead, he's moral but tough, idealistic but streetwise.
He's what Batman would've been had he not been so jaded and broken.
As for Batman's voice, the film circumvents it by shifting the focus
this time around onto Bruce Wayne. The film is filled with big action pieces,
fancy cars and tech, but the focus stays firmly on Wayne's internal struggle,
consequently shining a light on Bale who was always far more interesting when
not stuck in the suit and who gives his finest performance in the trilogy to
date. Then we come to Hardy who, even with his face half covered, manages to be
truly menacing; a real threat and worthy rival to Batman. His performance isn't
as memorable as Ledger's Joker (but then again, what is?) but he's so clear
headed and rational and such a believer in his cause that he was definitely a
great choice for the film's villain; one that actually ups the ante and
delivers an even bigger sense of danger than his predecessor.
The Dark Knight Rises not
only ends on a perfect note but it also, as a whole, rounds off the trilogy
beautifully. It emphasises the notion that Batman is but a symbol of hope; an
icon to inspire people, that anyone can identify with, a notion that has
underscored the trilogy. It's huge in scope but grounded in real life concerns.
While it isn't a perfect film – the romances are too rushed and feel like a bit
of an afterthought – it's still hugely impressive and wildly entertaining.