The Dictator: Not Even a Little Bit Funny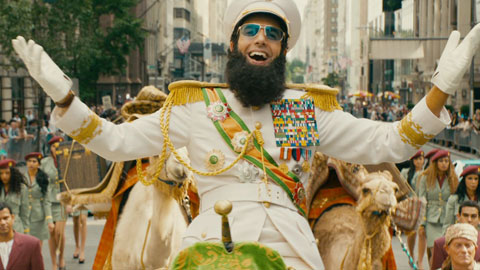 Aladeen,
ruler of the Republic of Wadiya, is a dictator working on a nuclear weapons
program which the UN, naturally, opposes. While on a trip to New York to talk
the UN out of bombing his country off of the map, Aladeen is betrayed by Tamir
(Kingsley), his closest advisor who wishes to gain control of Wadiya, turn it
into a democracy and sell its oil to the highest bidder. Determined to regain
his status as supreme dictator, Aladeen decides to do whatever it takes to
thwart Tamir's plan. Unfortunately however, he falls in love with his polar
opposite; a liberal, tree-hugging, democracy-loving feminist named Zoe (Faris)
who's under the impression that he's a run=of=the-mill immigrant and not the
dictator she'd been protesting against.
Let's
just dispel a few possible misconceptions off the bat; the film is neither
smart nor funny. In fact it's very racist. It's also very short. While the full
version is around 88 minutes long, the Egyptian censors have chopped off about
15 minutes most probably sparing us the sight of a few bums and dicks. And
while we're generally against films being butchered, the less we see of The Dictator the better.
The
number one rule of satire is that you have to be smart and make a point. You
can't just bundle a bunch of stereotypes together, point at them, laugh and
expect people to be entertained which is exactly what Baron Cohen does here.
Aladeen is basically an amalgam of the region's eccentric dictators, chiefly
among them Qaddhafi. He, like every other character in the film, is the worst
kind of stereotype. Through him, Baron Cohen seems to be accusing every
Arab/Muslim of being an ignorant, spoiled, sexist, bloodthirsty anti-Semite. A half-hearted
speech at the end which accuses the hypocritical western leaders of being every
bit as evil and corrupt as their eastern counterparts just isn't enough to make
you overlook the rest of the film.
And
while the film takes pains to point out that Wadiya is neither Arab nor Muslim,
everything else about it says it is. The country looks like something out of Aladdin, it's North African and hates
Israel, it's language sounds like a
cross between Arabic and Hebrew, and the first words we hear in the song that
opens the film are 'ya 'einy ya leily'. In fact, the only good thing about the film
is the soundtrack.
The
film presents nothing new, either idea or performance-wise – we've seen plenty
of funnier, smarter takedowns of dictators on ESS – and overall, the most
offensive thing about this film is that it completely lacks a sense of
humour.