The Expendables 3: Mindless New Addition to Testosterone-Fuelled Action Series
Antonio Banderas

Arnold Schwarzenegger

...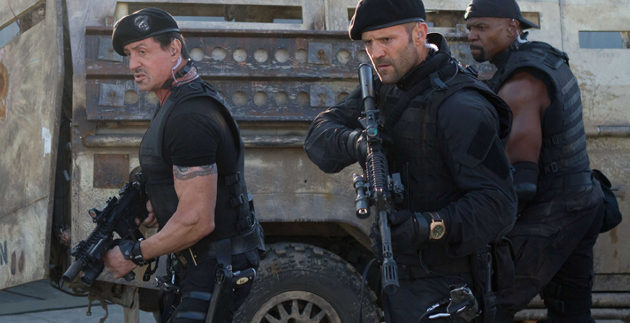 Expanding further on its already wobbly and tedious premise, the third installment of the Sylvester Stallone-led testosterone-filled franchise is exactly what you would expect it to be; loud, senseless and utterly brainless.
Directed by Patrick Hughes, The Expendables 3 opens with Barney Ross (Stallone) and his dependable crew of rowdy mercenaries, Lee Christmas (Statham), Gunner (Lundgren), Toll Road (Couture) and Ceaser (Crews), rescuing and breaking Doctor Death – a.k.a "Doc" – (Snipes) out of prison.
After a series of unnecessary explosions, the team decides to take a quick trip to Somalia and take part in a CIA-operated mission to eliminate a black market arms dealer from the scene. However, the mission proves tricky when the group is confronted by Stonebanks (Gibson); a backbiting businessman – and an ex-member of the crew – who holds personal ties with Barney. The team ends up taking a huge and an unexpected blow and, after almost losing one of his members, Barney promises to track down Stonebanks – with the help of CIA Agent Drummer (Ford) – and seek revenge.
Wanting to keep his dear friends out of line of fire, Barney and recruitment specialist, Bonaparte (Grammer), begin putting together a much-younger team of mercenaries, which include the tech savvy, Thorn (Powell), no-nonsense tomboy, Luna (Rousey), weapons expert, Mars (Ortiz) and Smilee (Lutz). Not wanting to miss out on the action, Trench (Schwarzenegger) also joins the team. Their mission? Find Stonebanks and, if circumstances allow, bring him back alive.
Let's be honest; the novelty of watching this peculiar but impressive assembly of 80's and 90's action superstars – all thrown together in one massive concoction of muscle, guns and testosterone – has worn off. While the first two films offered a bit more appeal – mainly thanks to the cast's obvious sense of self-awareness at their very own absurd existence – The Expendables 3 chooses to go in another direction. Taking itself a little too seriously this time, it seems like the boys are running on fumes; the witty one-liners have been replaced by one too many explosions, the action scenes feel erratic, shaky and incoherent, the pacing is rather clumsy and the predictability levels have reached their all-time high.
The addition of Gibson and Banderas is probably the best aspect of the entire film; Gibson shows what real acting looks like and Banderas – as the unemployed warrior looking for a kill – infuses the story with the much-needed energy. As for the rest, it's the same old story – old being the operative word – though there is still enough to keep fans happy.