The Fault in Our Stars: Tear-Jerking Teen Drama Adaptation
Ansel Elgort

Laura Dern

...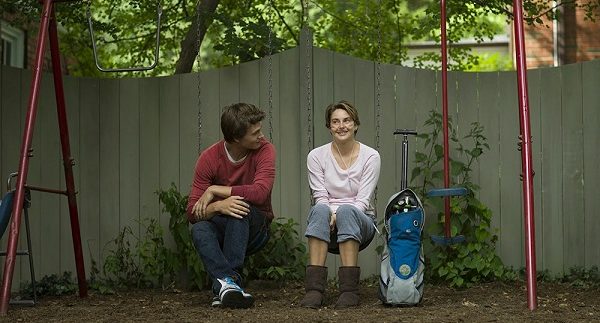 Adapted from John Green's 2012 bestselling novel of the same name, The Fault in our Stars – a formulaic but engagingly honest story of star-crossed lovers brought together by a mutual pain – will sadden, enrich and perhaps even comfort, many of those who come across its path.
The story is centred on the sixteen year-old Hazel Grace Lancaster (Woodley); a girl who has been battling with terminal thyroid cancer since the age of thirteen. After being one of the few to respond to an experimental drug treatment, her condition is now stable, though the side effects have weakened her lungs and she is now constantly attached to a portable oxygen tank.
Hazel has pretty much accepted the fact that her days are numbered but her parents, Frannie (Dern) and Michael (Trammell), are increasingly concerned for her emotional well-being and urge her to join a cancer support group for young cancer patients like herself; not wanting to stress her parents any further, Hazel soon agrees to go.
It's there that she first meets Augustus Waters (Elgort); an optimistic osteosarcoma survivor who lost part of his leg due to the illness. He is now living cancer-free and only comes to the meetings to support his best-bud, Isaac (Wolff). Instantly intrigued by each other, Hazel and Augustus strike up a flirty friendship but Hazel – someone who views herself as a grenade and is set on protecting those around her from the blast when that day eventually comes – is reluctant to let Augustus in. But as their relationship slowly begins to inch towards romance, she soon sees that she really doesn't have much say in the matter.
Woodley is absolutely enigmatic as the story's cancer-stricken heroine and ends up infusing a great amount of likeability and authenticity into the role of a young girl asked to face her destiny much too soon, while Elgort shines as the witty and the incredibly charming young man who refuses to let the cruelty of life dampen his spirits.
The Fault in Our Stars is only the second feature-film for director Josh Boone – see 2012's Stuck in Love – however, he executes the tricky adaptation like a veteran. Scripted by Scott Neustadter and Michael H. Webert, the gravity of the material is handled wonderfully and there is a heavy dose of sincerity, humour and most important of all, heart, injected into the story's sombre themes.
On the downside, its teenage-romance premise does get a little too cutesy in parts and the subplot, which involves a trip to Amsterdam, feels a little underdeveloped. Nevertheless, it's the easy chemistry between its protagonists and its earnest approach makes The Fault in Our Stars a success and an ultimate real tear-jerker that won't leave a dry eye in the house.