The Judge: Undercooked Courtroom Drama
Billy Bob Thornton

Robert Downey Jr.

...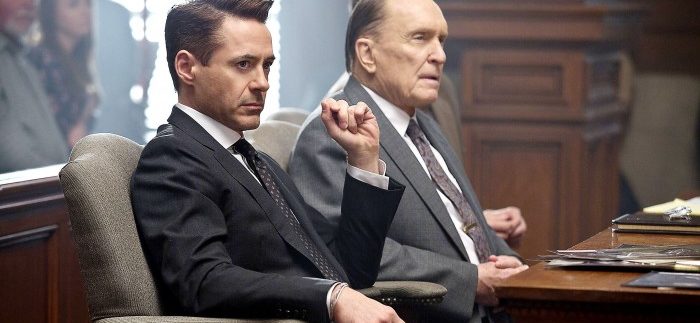 Predictable and at times laughingly formulaic, David Dobkin's The Judge promises so much, only to deliver very little. Written by Nick Schenk and Bill Dubuque, The Judge follows the life of Hank Palmer (Downey Jr.); a hot-shot Chicago defence-lawyer who makes his money by defending rich – and often guilty – businessmen, with very little thought or shame for his actions.
Seemingly obnoxious by nature and living in a secluded bubble of ignorance, workaholic Hank spends most of his day in the office or the courtroom, leaving little time for his wife and daughter. Familial relationships aren't exactly his forte; Hank isn't on good terms with his father, Joseph – a righteous and respected judge – who he has neither seen nor spoken to since he left his small-town life in Indiana as a teen.
When Hank receives the news of his mother's sudden passing, he is forced to return home. Not wanting to stay longer than is absolutely necessary, Hank's plans of escape soon change when Joseph is implicated in a crime that could see him lose his judgeship and reputation.
Despite the film's established cast, which also includes the perennially underrated Billy Bob Thornton and the always watchable Vera Farmiga, only Downey and Duvall are given time and space to form strong characters, with Duvall in particular shining – the eighty-three year old Oscar winner seems to only get better with age.
Known for his work in comedies such as Wedding Crashers and the Change Up, director David Dobkin fails to find balance between subtle comedy and dramatic, sentimental moments in a story that is riddled with underdeveloped subplots that contribute to what is a muddling and at times confusing clutter. The aesthetics of the film and the themes attached to the premise in its most basic form will The Judge to be a serious and weighty old-school courtroom drama. The result, however, is something closer to a soap opera that relies on the simplest conventions of basic storytelling – and even then, it somehow makes a mess of that, too.
At the heart of this film is the strained relationship between a father and son, who at the different stages of their lives have grown into very different men; but, once again, what could have been a weighty subject and exploration is handled with little care. Subtlety is nowhere to be found in this film.