The Losers: All Fun and Games
Action & Adventure

Mystery & Suspense

...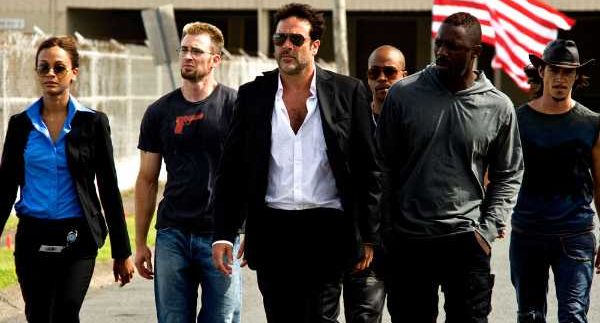 An elite team of larger-than-life experts go on a mission where things
go wrong; and as a result, the soldiers become fugitives desperate to clear their name and
reclaim their honour. It all sounds achingly recognisable, but The Losers uses familiarity as a short-hand
for establishing the ground rules before it loads guns and arm bombs.
The film's
fast-food aesthetic comes from the comic book that it's based on. From start to
finish, The Losers carries itself
with a great sense of explosive fun. Huge fireballs are followed by macho
jeering and there is hardly a moment where the film isn't loud. Yet underneath
this bombastic exterior, there is hardly anything to hold onto.
The brigade
is composed of Jensen (Evans), the tech wizard who, like any stereotypical
geek, is responsible for both cracking advanced security systems and providing
comic relief. Roque (Elba) is intimidating,
huge and prefers sharp blades to firearms. Cougar (Óscar Jaenada) is an enigmatic
Latino sniper who keeps to himself for the most part. There is also Pooch (Short),
the heavy weapons enthusiast. And leading the pack is the grizzled commander
Clay (Morgan).
The losers'
latest mission takes them to the Bolivian jungle where they have to eliminate a
drug lord. But before giving clearance to an airstrike on his mansion, the
group spots a bus full of children; so they request to abort the mission. A
mysterious voice identified as Max (Patric) ignores their pleas and moves ahead
with the airstrike, which in turn claims not only the life of all criminals in
the vicinity, but also the children. The strike stirs international outrage; so
the USA
government denies any ties with the operation and instead places the blame on the
losers.
The group stays put in Central America until Aisha (Saldana) approaches them
and offers to get them back to the States if they help her kill Max. They
quickly reach an agreement and spend the rest of the film tailing Max and
setting off bombs and explosions.
Director White
packs too much comic-book excitement in the film's frames. Action scenes are
slashed quickly, splicing fast-moving takes with slowed-down ones flawlessly.
The film keeps character scenes down to a minimum, which isn't such a flaw
given how flat and predictable they are. The
Losers succeeds in entertaining for its compact running time, but it hardly
leaves any impression.