The Maze Runner: Another 'Young-Adult Fiction' Adaptation
Aml Ameen

Dylan O'Brien

...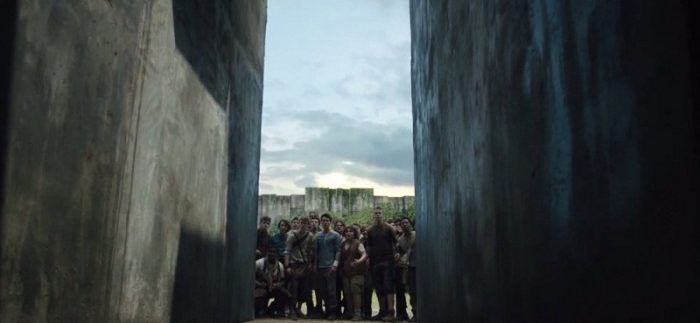 With films like Hunger Games, Divergent and Twilight finding unbridled box office success, adult feature film adaptations have, to some extent begun, to reach saturation and the latest proves exactly that.
The Maze Runner builds on a genuinely intriguing dystopian setting that fails to offer anything new to the genre as a film, despites the interesting premise of James Dashner's 2009 book.
Directed by first-time filmmaker, Wes Ball, the story follows Thomas (O'Brien); a young man who finds himself waking up with amnesia and surrounded by an army of equally curious young men. He soon learns that he has woken up in the Glade; a sprawling savannah that is towered off by high – and maze-like – concrete walls.
Just like Thomas, the boys, led by Alby (Ameen) – who has been stuck in the Glade for the past three years – are unable to recall who they are and how they got there. The increasing number of new arrivals eventually led the confused boys to build a functioning mini-society of sorts, that depends on 'runners' – the fittest, fastest and most agile of the group – to race into the maze each day and look for a way out. The task is made all the more daunting by the fact that the gates that guard the maze close buy sundown and no one dares imagine what could happen to anyone who gets stuck there with the large monsters known as Grievers who patrol the maze at night.
Thomas initially has a hard time believing the myth, but realises the severity of the situation when one of the boys' life is put into danger. The group is soon thrown into complete chaos when the first girl to arrive at the Glade, Teresa (Scodelario), shows up with a threatening message, making the boys realise that they can no longer wait for a miracle but, that they themselves must find a way to escape – and fast.
The Maze Runner marks the first and the opening chapter of a planned three-part series that once again sees a group of teenagers fighting for their lives against a mysterious and much superior force. To its credit, though, the story is fairly engaging, as the plot builds on a similar premise to William Golding's 1954 novel, Lord of the Flies.
The film succeeds in projecting a deliciously claustrophobic tone and the characters are likeable, while even the action is pretty solid throughout.
However, the film plays out like an intro to the series and those who haven't read the book might feel a little cheated by the fact that the character of Thomas is never really explored and short-changed by the abrupt – and calculated – finale.
Overall, The Maze Runner is a decent, if unremarkable, first chapter to the series and now the pressure is really on for the second.