The Nut Job: Bland Animation Adventure
Brendan Fraser

Katherine Heigl

...

Action & Adventure

Animation

...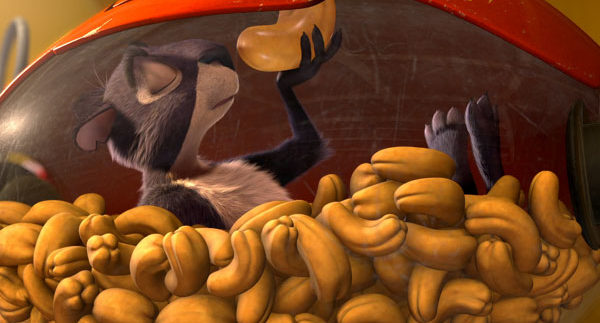 Adapted from an eleven minute short, The Nut Job is another bland, soulless animated feature that, despite its best efforts, pales in comparison to the modern animated classics. While it might be unfair to measure the film to the likes of Toy Story or Shrek one can't help but make the comparison,
The story revolves around Surly (Arnett); a rather selfish and self-serving squirrel, whose only friend is mute rat, Buddy. His attempts to rob a peanut cart in the park he and a pantheon of other animals call home are foiled by kind-hearted squirrel, Andie (Heigl) and 'hero' squirrel, Grayson (Fraser). The resulting melee leads to the cart colliding with the tree that the animals collectively store their winter food, blowing their sustenance to smithereens. Leader of the critters, a raccoon named Raccoon (Neeson), banishes Surly from the park, leaving him to fend for himself in the big bad city.
Soon, though, Surly stumbles on a nut shop and quickly decides that robbing the shop is his ticket back into the park. Things get complicated, however, when Surly realizes that the shop is also used as a mafia hangout.
Directed and written by Peter Lepeniotis, The Nut Job doesn't really know what it wants to be and its lack of focus and drive is evident throughout. The film is set in the 50s and that in itself could have been a vehicle from which to craft a unique and interesting story. Instead, an endless stream of product placement – modern products that is – and other small decisions such as using an instrumental of Psy's eternally grating Gangham Style destroy any kind of integrity the film as a story might have hoped to have.
Poop and fart jokes are aplenty here, and you'll be pressed in remembering a moment of genuine laughter after the credits have rolled.
Similarly, the entire cast seems to be misguided; Arnett's interpretation of a selfish squirrel, who eventually learns that the world does not necessarily involve around him, is perhaps a little too curt; instead of coming across a likeable bad-boy, the character of Surly just comes across as a bit of a jerk.
Heigl and Fraser are unable to offer much to their clichéd, one-dimensional characters, although Neeson fairs better as the authoritative Raccoon and his raspy, hoarse voice and mannerisms give his character presence. The star of the show, however, is mute rat, Buddy, who despite having no lines, is the picture's cleverest creation.
There's very little originality or even imagination in The Nut Job and is a lazy and underdeveloped entry into the increasingly large world of animation. Younger viewers may find some pleasure in the film, but not for the right reasons.