The Other Side of the Door: Uninspired Entry into Saturated Supernatural-Horror Genre
Jeremy Sisto

Logan Creran

...
Highly predictable and derivative, Johannes Robert's supernatural horror, The Other Side of the Door plays out as a paint-by-numbers haunted-house ghost-story which, despite its strikingly beautiful and exotic location, has very little to offer in terms of story, scares or gore.
The story is centred on an American couple Michael (Sisto) and Maria (Callies), who, after having travelled to Mumbai, India several times before for Michael's job as a high-end antiques dealer, have now decided to stay and make India their permanent residence. Sharing a lavish home with their live-in housekeeper, Piki (Pillai), and two young children, life is pretty idyllic. However, all of that soon changes when Maria, along with her two children, finds herself in a terrible car accident, which not only sends her car plunging into the river below, but forces her to leave her son, whom she was desperately trying to save.
Wrenched with guilt and devastated by the loss of her son, Maria descends into depression while Michael is lost for ways on how to get his wife back. Having lost a child herself, Piki soon reaches out to her employer in secret, informing her of a an isolated temple located deep in the south of India, where people go to make contact with the spirits of their loved ones and speak to them for one last time. However, Piki warns her that under no circumstances is she to open the door of the temple.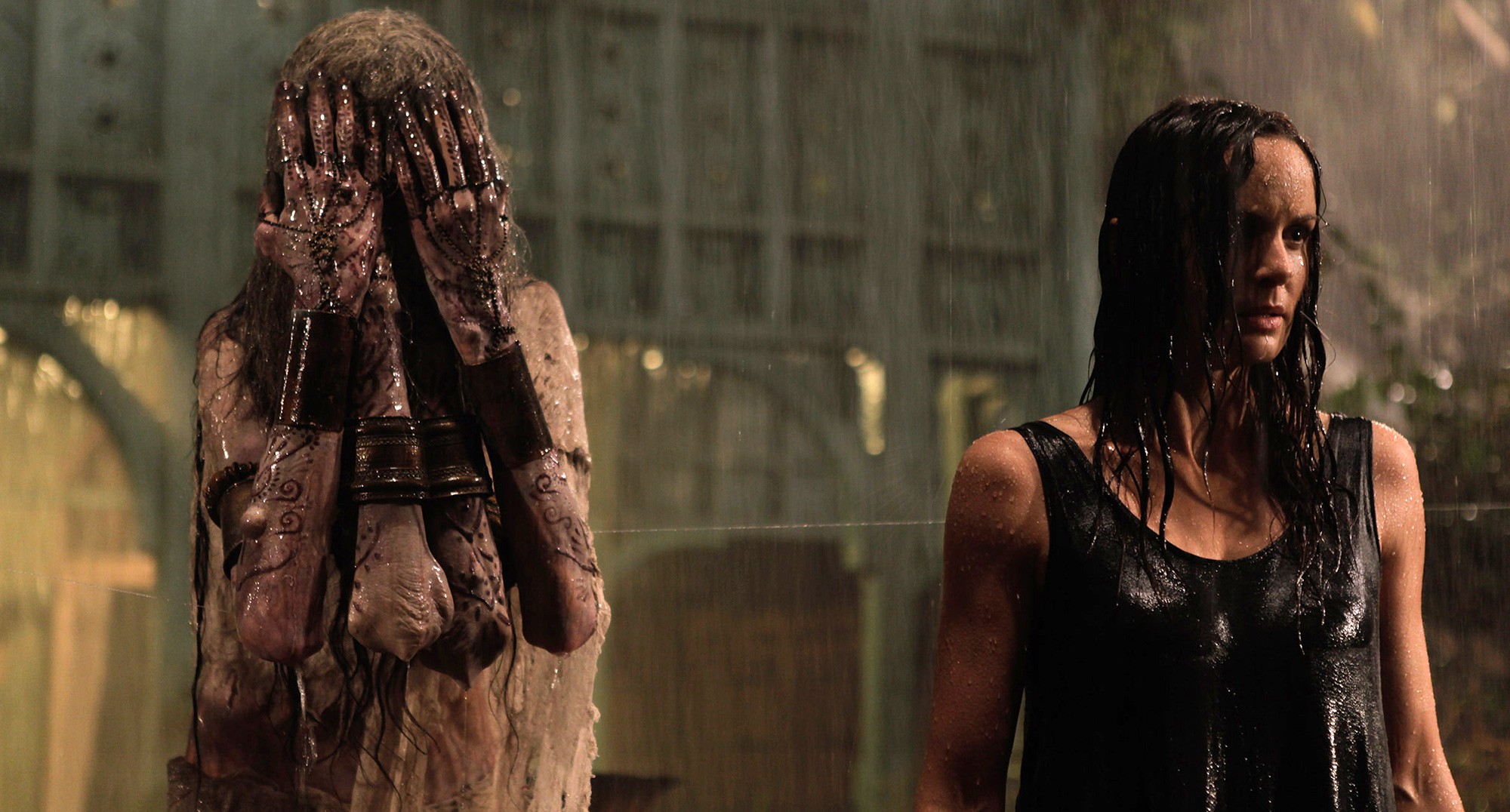 Resting on a string of uninspired and highly anticipated jump-scares and told with very little plausibility, The Other Side of the Door fails to bring anything new to the already saturated supernatural-horror genre. Scripted by Johannes Roberts and Ernest Riera, the film is moody enough to pass for a low-budget thriller, but nowhere near atmospheric enough for what it's trying to be. It lacks the energy to deliver the scares while its unique setting – you don't get many India-set horrors these days – is never really utilised to bring about anything different or new.
While her decision of opening that door which naturally, unleashes a series of deadly circumstances, may not be so easy to forgive, Callies is able to offer just enough heart to keep the audiences caring while Sisto, as the often confused and lost-for-words husband, rarely registers or even looks that interested. And we can't blame him?