The Pirate Fairy: Colorful Fairy Prequel to Peter Pan
Christina Hendricks

Lucy Liu

...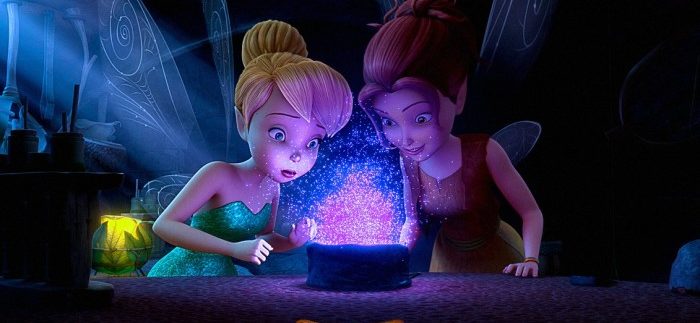 Tinker Bell, who made her first appearance in 1953's animated picture Peter Pan, returns in the fifth installation of her popular Tinker Bell franchise, The Pirate Fairy; an infectious and thoroughly charming story of friendship and sisterhood.
Directed by Peggy Holmes, The Pirate Fairy follows the adventures of Tinker Bell – a.k.a Tink – (voiced by Whitman) and her five fairy friends; the Garden Fairy, Rosetta (Hilty), water fairy, Silvermist (Liu), light fairy, Iridessa (Raven-Seymone), wind fairy, Vidia (Adlon) and finally, animal fairy, Fawn (Bartys).
The girls live in Pixie Hollow; a magical fairy community where everyone has been given a duty based on the talent revealed to them at birth. Life is seemingly peaceful for the five friends but trouble soon comes knocking when Zarina (Hendricks), the new fairy in charge of the production of fairy dust, decides to perform a forbidden experiment with the rare Blue Dixie Dust – an important ingredient used to make the fairy's gold-blue dust powder – resulting in a near-catastrophe at the lab.
Relieved of her position as the Dust Keeper, Zarina flees Pixie Hollow, only to return a year later for the Dixie Dust. It's now up to Tink and her friends to pursue Zarina, who they soon learn has become the captain of a pirate ship, and convince her to return to where she truly belongs; in Pixie Hollow. However, Zarina's new friend, James (Hiddleston), a pretend-cabin boy has other plans for the fairies and the fate of Pixie Hollow altogether.
Serving as a prequel to Peter Pan's 2002's Return to Never Land, The Pirate Fairy will please fans of the franchise, who will be happy to see their favourite fairy – and her devoted group of followers – return with their peace-loving ways. It's a simple story with just enough colour and vibrancy to keep things moving along. Although its animations and overall technical quality is nowhere near the likes of Pixar productions, for example, the story is strong enough to compensate for its drawbacks.
Whitman, who has been with the franchise since the beginning, returns as Tinker Bell and once again shines as the determined and lovable leader of the fairies. However, it's Hendricks – popular for her role as Joan Harris of the TV's Mad Men – who steals the show as the feisty and the often misunderstood Zarina who manages to get herself mixed up with the wrong crowd.
Similarly, Hiddleston – better known for his portrayal of Thor's evil brother, Loki – is superb and deliciously devious as cabin boy James whose destiny as Captain Hook is yet to be fulfilled.
Ultimately, The Pirate Fairy is a story about friendship and understanding. It may not be as big or majestic as Disney's last outing, Frozen, but it's still engaging enough to stand on its own feet.