The Purge: Anarchy: Half-Baked Sequel to Half-Baked Thriller
Carmen Ejogo

Frank Grillo

...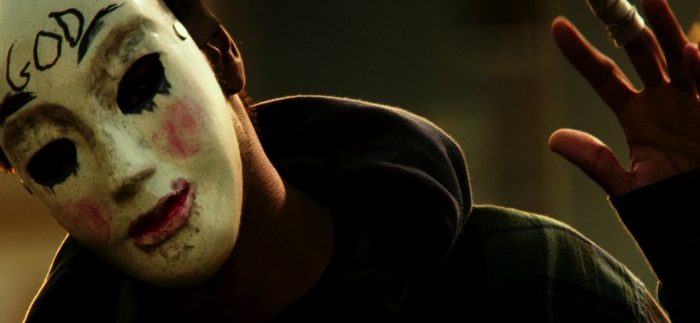 Stepping away from its single-setting format, the unnecessary sequel to 2013's disappointing but surprisingly profitable home-invasion thriller, The Purge, moves its story out of the house and into the streets where once again James DeMonaco's intriguing but equally mind-boggling ideas are damaged by clumsy pacing and feeble performances.
The twelve months have passed since the last Annual Purge and the residents of a urban, dystopian LA are once again preparing themselves for the bloody ritual; an annual ceremony where any crime – including murder – is made legal for one night.
The story kicks-off with three story strands which come together early on in the film; married couple, Shane (Gilford) and Liz (Sanchez), are left stranded and vulnerable to attack, when they're car breaks down under suspicious circumstances. Meanwhile, struggling diner waitress, Eva (Ejogo), and her daughter, Cali (Soul), fight for their lives when they're wrist nightmares come true and they're house is broken to. They're eventually saved when a group of paramilitary personnel intervenes, killing their drunken attacker. However, they drag Eva and Cali out to the street, where they plan to execute them. Luckily for them, Leo (Grillo) – a policeman looking to avenge the death of his son by a drunk driver – saves them. Little does he know, however, that Shane and Liz have taken refuge in his car and, after some heated words, the group end up navigating the Annual Purge together.
Even the most cynical of filmgoers has to admit that, despite how ludicrous and seemingly implausible the idea of The Purge actually is, there's something genuinely disturbing and deliciously unnerving about it. The idea of a legalised 'personal cleansing' ritual – which has supposedly managed to cut crime and poverty by half – definitely sounds like something worth exploring onscreen. However, as it is the case with so many interesting concepts it's the quality of the execution that counts and, even though the film does manage to build tension and offer some thrilling action set-pieces, the execution is left wanting.
One of the main reasons lies behind the acting, or lack thereof, from a group of actors who look – and sound – like they've stepped straight off of a soap-opera set; Ejogo and Soul are utterly unconvincing and Gilford and Sanchez are unnecessarily theatrical, though Grillo keeps things together.
All in all, The Purge: Anarchy is a half-baked sociopolitical ideology and a semi-exciting thriller that, once again, lacks character and a solid spine.