The Theory of Everything: Tender Peek into the Early Life of Stephen Hawking
Eddie Redmayne

Felicity Jones
Well-deserving of all the attention it's been getting, James Marsh's Theory of Everything – an emotional and a rousing look inside the life of one Professor Stephen W. Hawking and his loving but, turbulent thirty-year long marriage to Jane Hawking – is nothing short of wonderful.
Sourced from Jane's 2008 memoir, Travelling to Infinity: My Life with Stephen, the story begins in 1963, with an exceptionally charming twenty-one physicist, Stephen Hawking (Redmayne), on his way of pursuing his doctorate from the University of Cambridge.
It is there that he first meets the beautiful literature-major student, Jane Wilde (Jones); a devout Christian whose outlook on life – and science in particular – doesn't necessarily fall in line with his more agnostic and mathematical assessments of human existence.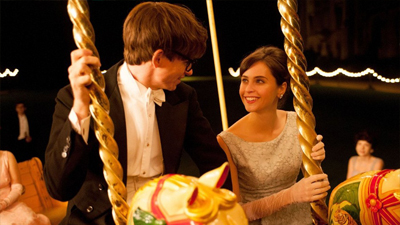 Just as the love between the two begins to blossom and Stephen begins preparing for his final thesis, he discovers that he is suffering from motor neuron disease; an illness that will soon begin to take away his ability to walk and talk, amongst other things. Having been given only two years to live, the young and the highly-intelligent physicist – whose thirst for knowledge and passion for life refuses to surrender – slowly begins to challenge his weaknesses. However, as he continues to grow professionally, his life at home with Jane – who is single-handedly carrying his physical limitations on her frail shoulders – begins to show signs of despair.
While this is in fact a biopic – a simple and a straightforward one at that – which celebrates the life and work of Hawking, it is also very important to note that this is not a story that goes deep into his rise to fame as the renowned physicist we know today. It's a much smaller scale story of love and compassion and a one focuses on human endurance, courage and, most of all, hope.
The Theory of Everything is shot beautifully and a real sense of romanticism and nostalgia – driven by a sensual and a tear-jerking classical score – can be felt throughout. It's an emotionally-rich drama that, although sometimes can feel a little too sugary, manages to stay grounded. It is, to a large degree, thanks to Redmayne's extraordinary performance audiences will be able to appreciate what is an insightful and meaningful peak inside the private life of one of the most respected and remarkable minds living today.