The Tournament: May The Best Assassin Win
Robert Carlyle, Kelly Hu, Ving Rhames, Ian Somerhalder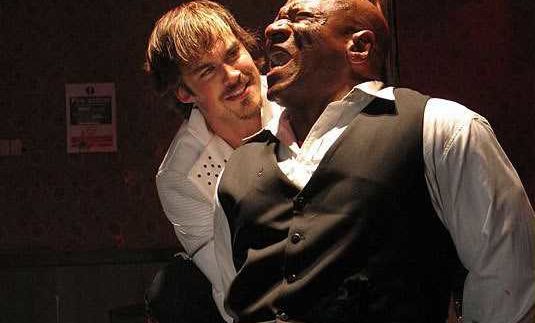 When the world's best assassins come to the streets of a small quaint Scottish town to compete in a deadly tournament where the last killer standing alive will be paid one million dollars in winnings, one understands quite clearly what kind of film they're getting in for. Some blood, plenty of action, guns galore and oddly enough some outright outrageous fun.

Carlyle is the local priest who, not by his own doing gets pulled into the contest in the action-packed film from director Scott Mann, to all intents and purposes, seems intent on taking the mantle of action director. If this film is anything to go by he'll need to improve his directorial skills a bit but as an all out-action flick The Tournament is a winner.

Let's also not kid ourselves. This is not a movie you go to in search of relationships, plot twists or love scenes. You go to see it purely for the action, some more action and then maybe a bit more. The Tournament doesn't take anyone's breath away in terms of plot devlopment and story line, but it will undoubtedly score very high for its no apologies gore-fest, brutality and over-the-top violence.

It seems the film is targeted more at men, as most action films do tend to be, and this is understood straightaway from the seemingly endless action scenes. Guaranteed to push the adrenaline in the veins to breaking point scene upon scene, but if you're the type who likes this genre of movies then go for it. Of course there is the ubiquitous female eye candy who is tough as nails and comes in the shape of Kelly Hu, something for both the males and females.

Don't try to fool anyone into seeing this action film if they don't want to or aren't into the guns blazing, shooter type of flicks, they definitely will not like it and could very well be the last event you endeavour to enjoy with them. My advice? Go with someone like-minded.