The Twilight Saga's Eclipse: Caught in a Sharp Love Triangle
Kristen Stewart

Robert Pattinson

...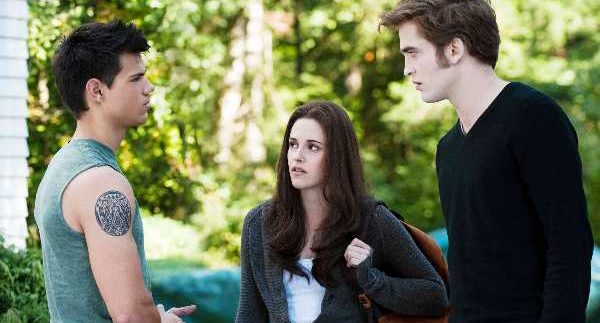 In what is
arguably the best of the series so far, the world's most nebulous love triangle reaches
a tipping point. Stony heroine Bella has to make a tough choice: team
Edward, or team Jacob? If this reads like mumbo-jumbo, you're most likely not a
fan and you have no business watching Eclipse.
Or maybe you're just not clued in to the latest teenage girl craze.
The first
two films panned sluggishly through breathless stares between its romantic leads; New Moon especially was notable for its
alarming lack of stakes and heavy-handed melodrama. Now, with an evil army creeping towards Forkstown where Bella (Stewart) resides, there is enough
danger in Eclipse to make us care.
Hell-bent on revenge, Victoria
(now played by Bryce Dallas Howard) masterminds an attack on Bella. Word starts
to spread about the immanent threat, and both Edward (Pattinson) and Jacob
(Lautner) have to put aside their differences and unite to stop the army. As for
Bella, she's now even more confused, with the two heartthrobs competing for her
affection, both of whom put their own lives on the line.
In spite of
being a modern day phenomenon, Twilight is very old fashioned; it maintains
that the act of physical love should only be expressed under the bond of
marriage, and Bella and Edward will consummate their love only if she transforms into a blood sucking immortal.
See a connection?
The shapeshifters
(who are mistakenly referred to as werewolves) team up with the Cullen family
to stop the army led by a vicious vampire, who coincidentally is also
motivated by love. The final showdown makes for some gripping action
sequences, masterfully visualized by director David Slade (Hard Candy, 30 Days of Night). For the rest of the film, Stewart,
Pattinson and perpetually shirtless Lautner do a decent job of carrying the
romance. After a very anxious performance in New Moon, it's nice to see Stewart more relaxed and in control of
her character.
Fans are
going to eat up Eclipse regardless, and
for us casual viewers, it's not quite as discouraging as its prequels. Surprisingly, the film has some hilarious
moments of self-mockery to prove it doesn't take itself too seriously; maybe a bone
thrown to the husbands and boyfriends dragged to watch it. As for you Twilight
heads out there, prepare yourselves for another roller coaster chapter.