The Wolf of Wall Street: Blockbuster True Story of Power, Money & Greed
Jonah Hill

Leonardo DiCaprio

...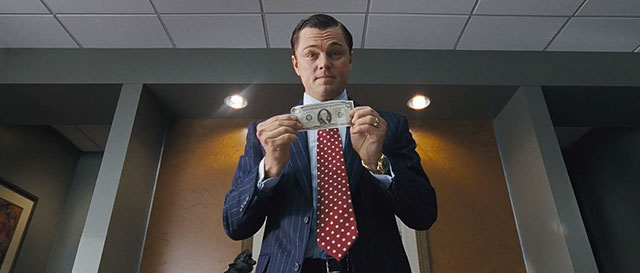 Martin Scorsese's latest tale of hunger and overindulgence, set in the dog-eat-dog world of finance, is told without a single ounce of restraint. Unconventional, unflinching and utterly outrageous, The Wolf of Wall Street is truly something to behold.
Based on the true story of a real-life stockbroker and a fraudster, Jordan R. Belfort, The Wolf of Wall Street is set in the late 1980's, in New York City. Ever since he can remember, twenty-two year old Belfort (DiCaprio) has been dreaming of becoming filthy rich; in order to make it big in finance, he decides to move to the Big Apple, taking his wife, Teresa (Milioti) with him.
Jordan's knack and passion for money is soon noticed by a stock market specialist, Mark Hanna (McConaughey), who immediately sees his potential and offers to teach him with the tricks of the trade. As a result of the unfortunate market crash, Jordan's time on Wall Street is short-lived and he is soon laid off.
Relentless and determined, Jordan soon finds work at a small penny-stock investment house and, using his recently acquired skills, he wastes no time in climbing the financial ladder. Deciding to go that one step further, he partners with an equally hungry associate, Donnie Azoff (Hill) and the duo create their own firm, which takes pride in selling to small time investors and conning them out of millions at a time. Jordan's success, which comes along with the copious amounts of gallivanting, sex and drugs, soon grabs the attention of uncompromising FBI Agent, Patrick Denham (Chandler) who is determined to put the end to the swindler who slowly develops somewhat of a God complex.
In arguably one of his best performances to date, DiCaprio is utterly devoted to his role of a man who feeds on greed and power, and maintains an unreserved tone throughout which makes his highly explosive scenes all the more fascinating. With Hill providing much of the comic relief, the rest of the ensemble are equally as impactful to the dynamics of the story; Robbie as DiCaprio's trophy wife, Chandler as the uncompromising FBI agent and McConaughey – who makes a brief, yet impressionable appearance – as DiCaprio's mentor.
Working on the script written by the Boardwalk Empire's Terence Winter, Scorsese's knack for vigorous and forceful storytelling approaches the subject of materialism and greediness with a sense of fascination and revolt. Every scene, which embodies the shallowness of its flashy presence, is clean and polished, whilst the story is met with a cheerful, infectious rhythm. Never one to shy away from the ugly truth, the film bears a surprising, dark comedic undertone whilst also being highly disturbing but incredibly alluring.
As one of America's greatest living directors, Scorsese has long been established as a force to be reckoned with and his latest representation of the destructive, modern greed culture of today, The Wolf of Wall Street, could well be one of his most outrageous – and courageous – films to date.