The Wolfman: Benicio Del Toro Shows His Fangs
Anthony Hopkins

Benicio Del Toro

...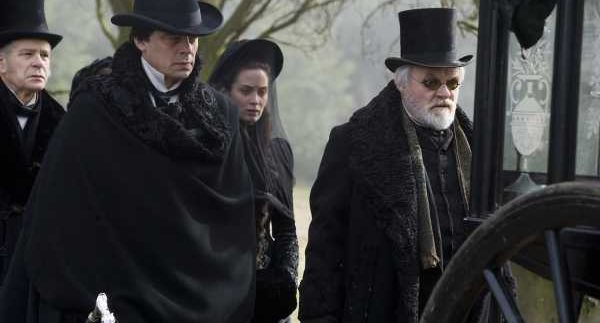 Another of those films that is entertaining and fun, although with the star-studded cast there's the underlying expectation the film would be far better than the final product. With a subject matter that can never be rehashed enough it's enough to turn this film into a definite winner at the box office – classics have a way of doing that.

The Wolfman is inspired by the fabled Universal film that launched what today is known as horror and brings the myth of the cursed man back to its original iconic presence within the popular genre. Oscar winner Del Toro is Lawrence Talbot, a haunted nobleman, who returns to his family home estate after his brother vanishes without a trace to help with the search.

His odd and often seemingly crazy father (Oscar winner Hopkins) joins Talbot on the journey to uncover the mystery of their son and brother, respectively. They discover horrifyingly that their own destiny, and that of Talbot, can be as scary as the mystery surrounding their relative's disappearance. As this really isn't a family affair type of film, keep those kids away from watching this one until they are bit older.

The puzzle is immense, in hindsight maybe too large for one film, and they soon discover an ancient curse that can turn the afflicted into werewolves when, of course, the moon is full. So they call in investigator Aberline (Weaving) to help out once the mystery begins to come into focus.

It isn't the first movie to tackle these themes and certainly isn't the last to do so, but it does create a nice pseudo reality of the world of werewolves, if ever one could be created. Hopkins and Del Toro do an excellent job with the script they were given and Weaving is always solid and helps give some nuance to the film. Although critics admonished it as a weak attempt at horror, it will at least capture your attention for an hour and a half.