Triple 9: Star-Studded Thriller Caught in a Web of its Own Ideas
Aaron Paul

Anthony Mackie

...

Action & Adventure

Thriller
Shockingly formulaic, Triple 9 is not as enthralling or as clever as its trailers might suggest. Delivering the goods in small, sporadic doses, Triple 9 – scripted by newcomer, Matt Cook and directed by The Road's John Hillcoat – fails to deliver anything memorable from its technically sound, but emotionally empty, storyline which sadly, not even its A-list cast can breathe life into.
The film kicks off with a thrilling bank-heist sequence which sees a group of crooked cops – two of which are played by Anthony Mackie and Chiwetel Ejiofor – and ex-special forces operatives retrieve a safe deposit box that contains information that will get a Russian mafia boss out of jail. Delivering it the boss's wife Irena (Winslet), they are refused pay until they go through with another job, though.
On paper, Triple 9­ has the ingredients to be great; a fantastic ensemble cast, a relatively dependable director and the muddy morality of cops and crooks. But quite soon into the film, everything becomes unfocused and terribly conventional. Boasting a series of interesting ideas and engaging plot elements, there are moments of genuine thrills to be had, but it never really comes together in any kind of interesting, logical and unified cinematic harmony.
Plots strands involving Casey Affleck's idealistic rookie cop character and his innocence and one of the group fathering a child with the mob boss's sister in-law should have added depth, but end up being too much to handle.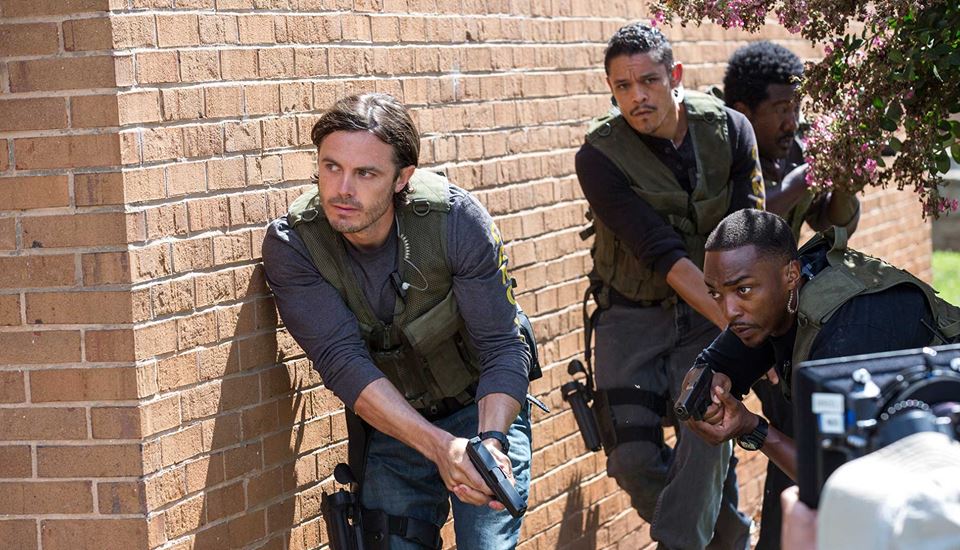 Delivering a relatively solid performance, Ejiofor is probably the closest thing to being the central character of the story – the script makes it extremely difficult to tell otherwise – while slightly caricatured performances from the likes of Affleck, Winslet, Harrelson and Paul don't really stick or make a lasting impression.
With one too many characters and plot threads to juggle with, Triple 9 never reaches the ambitions it aspires to. Shot through an authentically raw and gritty lens, the movie spends most of its time in the dark which, just like the rest of its story, soon gets a little wearisome.