Trumbo: Cranston's Oscar-Nominated Performance Puts a Shine on Otherwise Average Film
One can't help but sense the irony in the fact that a script attempting to depict the life of one of the most renowned Hollywood scriptwriters can't quite find a creative edge. We speak, of course, of Dalton Trumbo – known for penning films such as Roman Holiday and The Brave One – whose inspiring life story is the subject of Trumbo.
The story begins in late 1940's Hollywood, where Dalton Trumbo (Cranston) is at the top of his game as the go-to screenwriter everyone wants a piece of. Sharing his home with wife, Cleo (played by the wonderful Diane Lane) and three wonderful children, Trumbo couldn't be a happier man.
Being a self-proclaimed communist, however, Trumbo is soon shunned by the Hollywood community at the height of the 'The Red Menace', until independent film producer, Frank King (Goodman), gives him a way back into the industry – albeit under several pseudonyms.
The first half of the film is bogged down by the political ideologies at play and comes across as heavy-handed in parts, though Trumbo manages to establish a relatively engaging tone once the second half of the movie begins to roll. But there's a lack of depth in some of the more complex elements of the film that director Jay Roach – the guy behind the Austin Powers and Meet the Parents movies – doesn't handle carefully enough; Trumbo's relationship with his family as they stand back and watch him deteriorate under pressure, for example.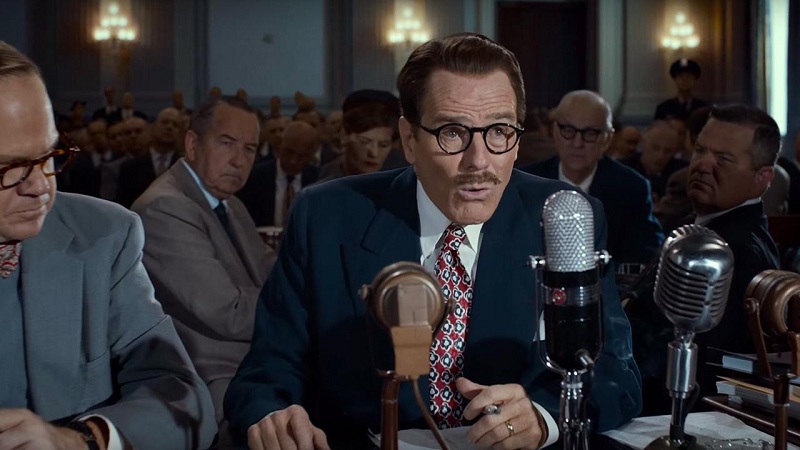 It's an indication of the occasional simplistic approach that the film takes to its heavy subject matter – an approach that has been attacked from many quarters for simplifying and inaccurately portraying various political facts and characters.
Alongside solid performances from Diane Lane, Louis C.K. and Jon Goodman, the committed performance of the sharp and talented Mr. Cranston that keeps the story's head above water, as he embraces his character's personality and mannerisms perfectly. Making it unbelievably hard not to root for the protagonist, Cranston – nominated for his first Academy Award for the role – keeps Trumbo alive even when its script threatens to do otherwise.