Valentine's Day: Bring On The Schmooze
Anne Hathaway

Ashton Kutcher

...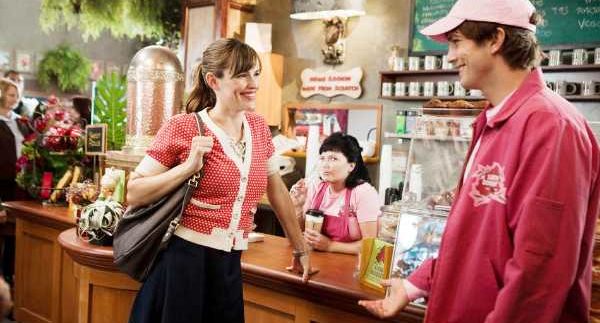 Sometimes life is just better with corny, romantic comedies. If you're in the mood for that kind of entertainment, check out Valentine's Day . Be warned, though: this film is a mega chick-flick. It's clichéd and predictable, but it might just make you smile if you love romantic comedies that stay true to happy endings.

The plot revolves around multiple storylines of couples in varying stages of relationships on Valentine's Day. Some storylines include a young couple that gets engaged that morning, a young teacher who has recently fallen in love with a married doctor, an elderly man who discovers his wife of over forty years had an affair, and a US marine soldier returning home to her child. Its all-star cast features Julia Roberts, Jessica Alba, Ashton Kutcher, Jennifer Garner, Anne Hathaway, Jessica Biel, Queen Latifah, Patrick Dempsey, Jamie Foxx and more, if you can believe it!

The most poignant performances in this love-fest are given by Ashton Kutcher and Jennifer Garner, who have believable chemistry as the two best friends struggling with their feelings for each other. Jessica Biel plays the neurotic workaholic well and generates some of the few laughs in this film. Julia Roberts is on screen for a total of six minutes, while Eric Dane and Patrick Dempsey are pleasant eye-candy but lack depth in their roles.

There are a lot of similarities between Valentine's Day and the charming British hit Love Actually. Unlike Love Actually , however, in which the story lines come together in clever, unexpected ways, the resolutions of the love conflicts in Valentine's Day are very predictable. It seems like the film really wanted to be Love Actually , but ended up more like 27 Dresses .

Valentine's Day is about as cheesy as the holiday that shares its name. So, if you like big, fluffy teddy bears and long to hear words of poetic verse from your loved one on Valentine's Day; this is a good film for you. If you think that Valentine's Day is one huge marketing campaign and that people should start getting real, you are going to hate this film.