V/H/S/2: Gory Horror Sequel Makes Better Use of Anthology Structure
Kelsy Abbott

Lawrence Michael Levine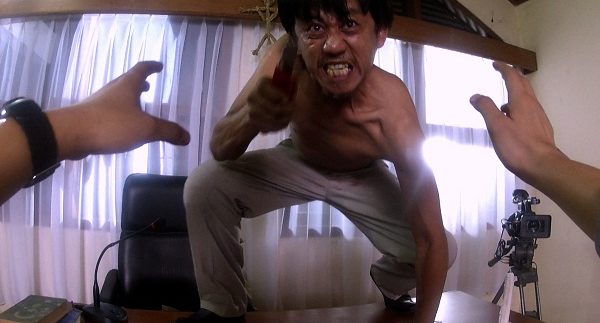 Though novel in design found-footage horror, V/H/S, was uneven, unfocused and, despite its gimmicky premise, failed to offer anything new the horror subgenre. The follow-up, however, makes use of its structure much more effectively.
Setting itself up as a series of unrelated segments, V/H/S 2 is, like its predecessor, built around an anthology structure interlinked by the story of 'Tape 49', which follows Larry (Levine) and Ayesha (Abbott); a couple of private investigators assigned with the task of tracking down a young college student who's gone missing.
Exploring the student's home, the couple soon stumbles across a pile of old VHS tapes and a message from the student. As Ayesha begins to watch the tapes, we are introduces to what is essentially a collection of short films.
'Phase 1 Clinical Trials' tells of a man who begins to have paranormal experiences after an eye-implant; 'A Ride in the Park' delves into the world of zombies via a biker's Go-Pro camera; an Indonesian cult's 'time of reckoning' plays out in front of a news crew in 'Safe haven' and 'Slumber Party Alien Abduction' pretty much explains itself.
Slickly put together, unnerving and deliciously gory, V/H/S 2 is a definite step up from the original and manages to stay relatively consistent and intense throughout. Serving up four short stories and one main arc that ties them altogether, all of the segments are pretty immersing in their own right, though some are weaker than others.
The format of short films or segments works perfectly for the modern interpretation of the horror genre; the brevity and succinctness makes for a much more impactful shock factor, leaves you little time to question absurdities and the high degree of suspension of disbelief is much more digestible.
As for the heavy – and often shaky – use of POV; yes, the effects can be a bit distracting, but for those who relish in its glory, the experience of V/H/S 2 is definitely worth a trip to the cinema.