Winter's Tale: Modern Day Fantasy Novel Gets Lost in Translation
Colin Farrell

Jessica Brown Findlay

...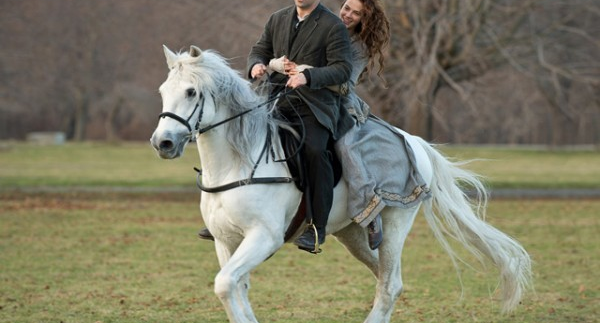 Working from the sprawling pages of Mark Helprin's highly-complex 1983 novel, Akiva Goldsman's first directorial effort, Winter's Tale, seems to have spread itself a little too thin, making this overly-sentimental and the highly-incomprehensible, modern-day-fantasy world, a little hard to get stuck into.
Set in the early 20th Century, the story follows Peter Lake (Farrell); a highly-skilled, New York burglar who has been working for evil crime lord, Pearly Soames (Crowe), for as long as he can remember. Growing tired of Soames, Peter decides that it's time to cut loose and with the assistance from a mysterious flying white horse that comes out of nowhere – whom Peter ingeniously names 'Horse' – he manages to escape from his now seething boss.
However, before he leaves the island of Manhattan for good, Peter decides to rob one more mansion. However, during the robbery, Peter is intercepted by the beautiful owner Beverly Penn (Findlay) who, instead of calling for help, offers her intruder a friendly cup of tea.
Peter is immediately smitten, but soon learns that Beverly is dying and only has a few months to live; unable to turn his back on her, Peter follows his heart and pursues the relationship. Meanwhile, Pearly Soames is becoming seemingly obsessed with killing Peter, and turns to the master of evil, in the form of the highly-comical interpretation of Lucifer (Smith), for assistance.
Managing to express just enough sincere emotion to make you believe, Farrell is rather pleasing in the role of Peter. Unfortunately, the chemistry shared with Findlay, best-known for her role in the popular TV series Downton Abbey, unfortunately comes across as superficial and extremely forced. Similarly, Crowe, equipped with a highly-distracting Irish accent and bizarre facial tics, is alarmingly inconceivable as the menacing villain.
Book adaptations are generally hit or miss, and the challenges of capturing the same magic, imagination and literary complexity are aplenty, often demanding the filmmakers to find a middle ground to please fans of the book and mainstream Hollywood audiences alike.
In the case of Goldsman's interpretation of Winter's Tale, the result is a clear miss. Though this is his first directorial role, Goldsman is no stranger to Hollywood; as a scriptwriter, he boasts writing credits on a host of films including Cinderella Man, I, Robot and A Beautiful Mind.
Unfortunately, this undertaking is rushed and at times nonsensical leaving the six-hundred-plus page novel terribly lost in translation.