Zoolander 2: Just as Ridiculous, Just as Absurd, Not as Good
Ben Stiller

Kristen Wiig

...
Arriving fifteen years after its box-office-flop-turned-video-cult-classic predecessor, Ben Stiller's Zoolander 2 has arrived hoping to capitalise on the unlikely popularity of the first instalment. However, although it does manage to induce several genuinely funny and bizarrely entertaining moments, the film's overall premise – a downright absurd one at that – proves a little too difficult to digest.
It's been exactly fifteen years since anyone has seen or heard from the dim-witted super models, Derek Zoolander (Stiller looking particularly old) and his enemy-turned-BFF Hansel McDonald (Wilson). After the literal collapse of The Derek Zoolander Center for Kids Who Can't Read Good and Who Wanna Learn to Do Other Good Stuff Too –which also left Hansel partially scarred and Derek's loving Matilda (previously played by Christine Taylor) deal – the two dim-wits have decided to retreat from the public eye.
However, both models are soon pulled back into the business when they get offered a modelling gig for fashionista, Alexanya Atoz (Wiig) in Rome. However, their plans are soon derailed when they are approached for help by Interpol's agent Melanie Valentina (Cruz) who has been working on revealing the mystery behind the recent string of celebrity murders, all of whom were recorded doing Derek's trademark pout right before they died.
Stiller – who co-writes, stars and directs – has created yet another bizarre and whacky world of idiocy where logic and common sense are once again unable to find a place to exist, which, in all fairness, considering that this is a comedy, is not necessarily a bad thing. However, while the first film kept its focus strictly on the inner workings of the modelling industry and the fashion trends of its time, there seem to be a lack of focus and general ingenuity in terms of the parodied approach that worked so well before.
Burdened with an endless string of ineffective pop-culture jokes and overstuffed with a meaningless parade of celebrity-cameos – Justin Bieber, Benedict Cumberbatch, Naomi Campbell, Anna Wintour and even Susan Boyle are just a few of many that randomly pop-up – the film seems completely uninterested in consistency or making any of its comedic attempts stick.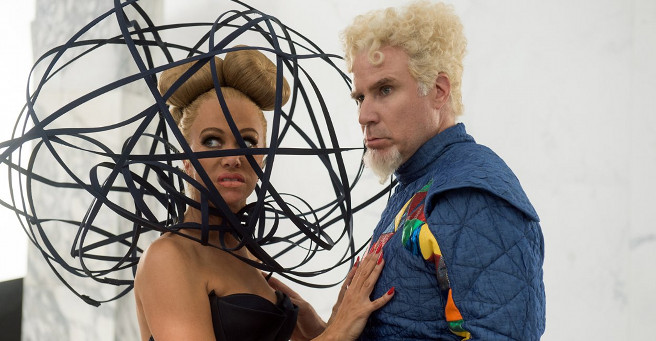 Falling into their outrageously vain and dumb-as-a-stump personas with a great deal of ease – this is not meant to be a compliment by any means – both Stiller and Wilson working incredibly hard to sell us the goods, while, Ferrell, who returns as their old wilful enemy Mugatu, doesn't do much except indulge in one of the most over-the-top performances known to man.
While the ridiculousness of its premise and the lengths it goes to ensure absolute absurdity may sound like fun ride for some, Zoolander 2 is still a rather tragic rehash of what is already a poorly-conceived idea to begin with.