Zootropolis: Clever, Layered Animated Fun
Ginnifer Goodwin

Idris Elba

...
Zootropolis (or Zootopia, depending on which cinema you go to), has everything you need for a successful animated film – an engaging world, an underdog story that you can't help but get behind and solid cast that are smart enough not to let their presence blanket the film. So often, though, these elements aren't enough and lack that intangible sense of heart – but this film has plenty of it.
The film paints a colourful world where animals of all kinds and sizes are living together in blissful harmony. The pain plot follows Judy Hopps (voiced by Goodwin); a rabbit who, ever since she was a little bunny, has aspired to become a police officer. Her dreams soon come true when Mayor Lionheart (Simmons) issues an initiative which encourages the police force to be more open to the hiring of small mammals, leaving Judy ecstatic that she is finally getting what she always wanted. However, her colleagues aren't so and she's assigned to parking ticket duty by her boss, Chief Bogo (Elba.
Determined to prove her worth, Judy is quick to jump to the opportunity of investigating a missing person's case. Employing the help from the street-savvy fox, Nick Wilde (Bateman in his element), Judy and her new associate – whom she has always been told to stay clear of – soon embark on a journey together, which involves a lot of ups and downs and an abundance of quirky characters along the way.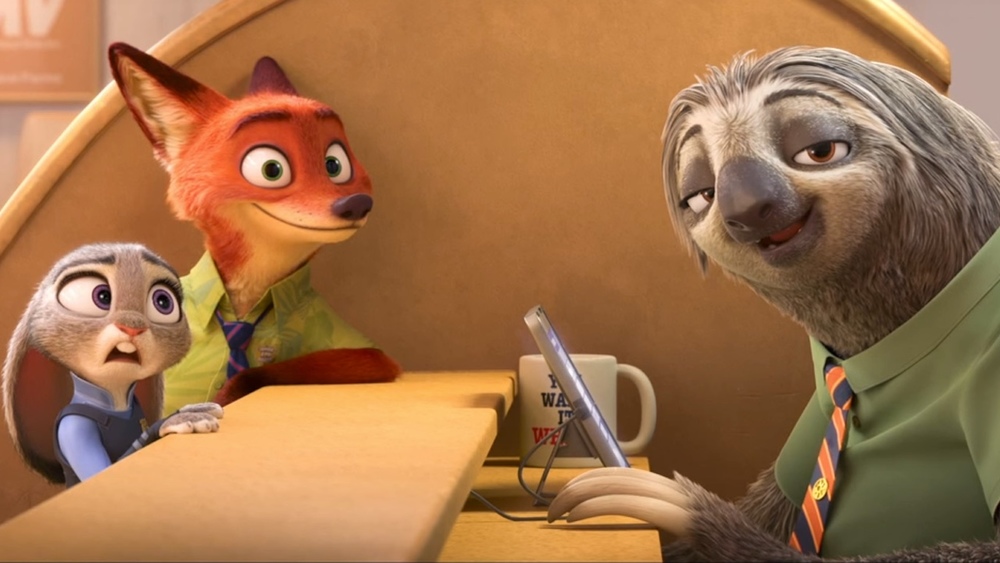 Offering subtle messages of hope and highlighting the importance of tolerance and understanding of all things that might be 'different' or 'unknown', there's a lot more to Zootropolis and its thoroughly enchanting and visually engaging antics than meets the eye. The animation work is impressive, though there is once again very little use of watching it in 3D, and the story – penned by Jared Bush and Phil Johnston – is bestowed with an infectious energy which doesn't let up until the very end. Speaking to both the young and the old, the story is built on a digestible social-commentary which, ever so subtly, examines the issues such as race and inequality and at the same time, it finds a way not to come across as heavy-handed or pushy.
Adding to the film's overall success is the wonderful voice-work from the entire cast, with Goodwin and Bateman both bringing their characters and the story to life, though the villain of the piece, a.k.a Mr. Big – played by Maurice LaMarche – is sadly not as maleficent as the story perhaps needs him to be.
Nevertheless, Zootropolis has laid its claim to be one of the best animated features of this still young year; clever, funny and refreshingly bold, its message is endearing and engaging, without falling into sentimentality.