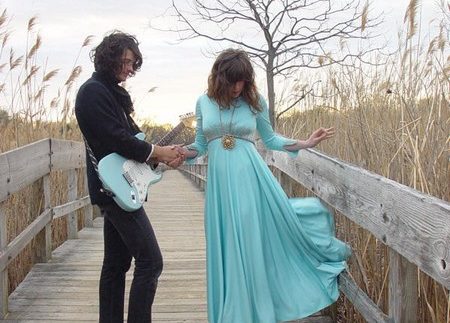 Bloom is the fourth album
release by American indie-pop duo Beach House; for anyone familiar with their dreamy
sound, this album comes with no disappointments, for anyone who has no idea who
this band is: sit back and enjoy.
Made
up of French-born Victoria Legrand (vocals/organ) and Baltimore native Alex Scally
(guitars/keyboard), Beach House have gained critical acclaim over the years for
their signature slow beats, wispy synths and Legrand's melancholic voice.
Their
sound is dreamy with a sense of dramatic endings; it has an almost fantastical
quality to it. Their music tells metaphoric tales of battles and heroes, purple
hills and invisible wings that allow you to fly; of course, the undeniable lullaby
similarity could easily rock you to sleep as well.
Their
second album Devotion which earned them their initial popularity is
mesmerizing and completely dazed; Teen Dream, which came next, was
equally hypnotic but filled with more life. In what seems like a natural
progression, Bloom takes one more step forward and almost literally
blooms.
The
first track 'Myth' is a great indicator of what lies ahead. Scally's guitar
flutters with nostalgia, the lingering melody and overall sense of profound
finality, Legrand's eternal poignancy 'You can't keep
hangin' on/To all that's dead and
gone' are perfect representatives of Beach House at their best.
Instead of instantly escaping back into their slow and practically
abstract musical pattern, 'Wild' is laden with bursts of melodies; 'Lazuli'
although pleasant with softened hums attached to what feel like travelling
rhythms, sounds all too similar to one of their previous songs.
'Other People', which speaks in a distinctly 80s language, is
coated in synths, full of Psychedelic riffs and slow motion movement; precise,
muffled beats ultimately direct it all. The lyrics 'Other people want to keep
in touch/Something happens and it's not enough' only add to the nostalgic surge
of emotions. It is really quite lovely.
The haunting quality of their music is prominent in 'Troublemaker'
with an organ leading the way into the song, but instead of lose themselves in
the bareness of two individuals distinct of one another; playing two, almost
separate sounds – as with much of their previous work – the duo blend,
awakening each other along the way. There's an added fluidity that really draws
the listener in.
'New Year' and 'Wishes' are easygoing and peaceful, perhaps
reflective – everything Beach House in some way represents. 'On the Sea' is
probably the least preferred track on the album, but 'Irene' beautifully
eliminates any question as to what note Bloom could end on with
whispering melodies, penetrating guitar riffs and definitive beats; Legrand's
voice as soothing as a cool breeze on hot skin – leave it for a few minutes when
you think it's ended, and it will start up again.
Bloom is great to listen to as a whole; the beauty in it is you can let
it play while you go about whatever it is you do. It's unobtrusive if you need
to it to be but it's also mystical and engaging; full of imagery and feeling if
you will it to be that instead.