The Champagne Bar: Bring on The Bubbly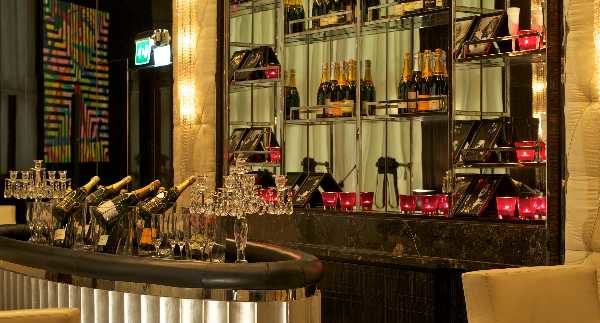 With the summer
season comes a slew of new nightspots in Cairo,
offering refreshing late night alternatives to the ho-hum tradition of
La Bodega/Tamarai/Cairo Jazz Club.
The Champagne Bar
is the latest offering by the Fairmont
Nile City
to Cairo
nightlife, following its short-lived Supper Club that opened and shut down a
few months ago. Now back with a small makeover, the champagne bars offers a
sophisticated and intimate atmosphere, where drinks will be sipped delicately
(not gulped), legs will be crossed in fabulous high heels, and Cuban cigar smoke
will float through the air. Let's say that this is not the place to come to if
you've just rolled out of bed and pulled on your torn, dirty jeans.
While some may
feel disgruntled with this unspoken but understood dress code, to others this
may be a welcome change. Girlfriends can meet for a round of champagne (280LE
per glass of Bernard Remy, 350LE per glass of Brut) and delicious canapés (try
their heavenly bite-sized morello cherry cheesecake, 42LE), while the bar's
small lounge carries six or so black tables and comfortable white couches
that make it an ideal spot for a quick drink or meeting. Furthermore,
the Fairmont's position next to the Nile City
Towers could make the
Champagne Bar a popular haunt for business executives or shoppers after a long
day at the Mall next door.
A South African
three-piece band Indabaperforms at
the bar every night from 9PM, changing their music genre every day of the week
from jazz to disco (check Cairo360's event listing or the bar's Facebook group for their schedule). While the live music does compliment the classy and
relaxed atmosphere, it does teeter dangerously close to typical hotel lounge
music.
Aside from the
canapés and sushi/sashimi menu (starting at 82LE) expertly prepared by Chef
Antonio Lopez, the bar offers an impressive collection of cocktails and
aperitifs ranging between 52LE and 75LE. A glass bar table flanks a mirrored
display of vintage malts as well luxury scotch whiskey, including Johnny Walker
Blue Label (400LE per glass), while you can ash your imported cigar from the bar's selection into
their heavy glass ashtrays. The bar's adult atmosphere will likely stop the
teeny boppers from coming, which will leave more room for quiet, mature
conversation over a glass of Hennessy XO (265LE).
This bar is
expensive, but then again;it's to be expected from a five-star establishment like
the Fairmont.
The only shortcoming in this promising location is its size– the bar's oblong
shape is slightly narrow, so although tables are set adequately apart, a larger
crowd may have to bump and slide their way through the place. That being said;
you should check out this place if you're firmly attached to your Hermès tie or Louboutins
and want a luxurious lounge experience.